March's Top 15 Things to Do in Reno
There's always something to do in Reno, and this month is no exception. Check out the latest upcoming events and find out how you can walk with dinosaurs, shop stamps, and go green this March.
Art Walk Reno – Take a stroll through the Reno Riverwalk District and discover all the public art, murals, and galleries that exist within downtown Reno. Guided tours take place every first Thursday of the month, with proceeds from the March 2 walk benefiting the Nevada Sage Waldorf School.
AmeriStamp Expo – The nation's second largest postage stamp and postal history show comes to the Reno-Sparks Convention Center, bringing together stamp collectors, dealers, historians, and artists. Admission is free and open to the public March 3-5, with opportunities that include getting personal stamp collections evaluated, designing your own stamp, and buying and selling stamps.
SnowFest! – Celebrate a record-breaking season of snow at North Lake Tahoe's SnowFest, taking place March 3-12. The 10-day festival includes a jam-packed schedule of events for all ages, including Paint the Snowman, Polar Bear Swim, the crowning of the 2017 Snow Queen, and more.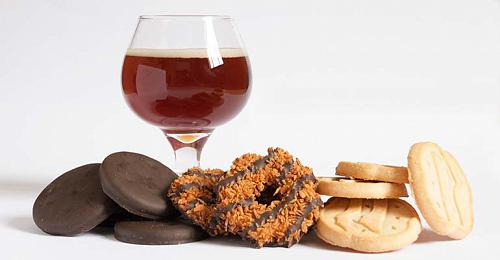 Cookies on Tap: Girl Scout Cookie and Beer Tasting – Make Monday feel like a Friday with Cookies on Tap, a fundraiser for Girl Scouts of Sierra Nevada hosted by Barley's Angels and Imbib Custom Brews on March 6. The $10 admission fee gets you four beer samples that have been perfectly paired with four different Girl Scout cookies.
A Funny Thing Happened on the Way to the Forum – The time-tested, 2000-year-old comedies of Roman playwright Plautus combine with classic vaudeville theatrics in this Broadway favorite, which will be performed by the Carson Valley Community Theatre from March 10-26. Get ready to laugh as the plot twists and turns with cases of mistaken identity, slammed doors, and the appearance of showgirls.
2017 Reno Leprechaun Crawl – Don't get caught not wearing green at the Reno Leprechaun Crawl! Enjoy discounted drinks, photo booths, and costume contests across 28 bar stops in downtown Reno on March 11.
26th Annual Rocky Mountain Oyster Fry – Have a ball (or two) this St. Patrick's Day and join thousands of costumed connoisseurs at the 26th Annual Rocky Mountain Oyster Fry in Virginia City on March 11. Multiple competitors will smoke, fry, or grill up tasty treats for the chance to take home first place in categories like best overall taste, most creative dish, and best dish presentation. Those without an appetite for the delicacy can partake in the main street parade or saloon crawl.
T-Rex Planet – Walk amongst lifelike dinosaurs March 11-12 as T-Rex Planet comes to the Reno-Sparks Livestock Events Center. Kids (and kids at heart) can dig up fossils, dance with the dinosaur band, and snap selfies with velociraptors, triceratopses, and tyrannosaurus rexes.
5th Annual Leprechaun Race – If you think you're faster than a leprechaun, prove it during the Leprechaun Race on March 12. Walkers and runners will get a generous head start on the 5K course before a speedy leprechaun enters the race, and everyone who crosses the finish line in front of the mischievous fairy will take home a special prize. For every racer passed, the leprechaun's pot of gold will grow in size and benefit the Terry Lee Wells Nevada Discovery Museum.
Gem Faire – One of the nation's largest gem, jewelry, and bead shows returns to Reno from March 17-19, bringing with it a jewelry shopping extravaganza. Fine jewelry, costume jewelry, precious and semi-precious gem stones, millions of beads and crystals, jeweler tools and supplies, and more await at the Reno-Sparks Livestock Events Center, along with hourly door prizes.
National Symphony Orchestra of Ukraine – The National Symphony Orchestra of Ukraine, considered one of the finest symphony orchestras in Eastern Europe, takes the stage in Reno for one night only on March 18. Presented by the Reno Chamber Orchestra, the performance will include the music of Tchaikovsky, Beethoven, Mussorgsky, and Khachaturian.
Reno 1868 FC – Professional soccer has come to the Biggest Little City! Be a part of Reno 1868 FC's inaugural season and catch a home game at Greater Nevada Field. They take on Sacramento FC on March 11 and Orange County SC on March 25.
Anoushka Shankar – After making her professional debut on the Indian classical and progressive world music scenes at the age of 13, world-famous sitar player and composer Anoushka Shankar now brings her talents to Reno on March 30. See her perform at Nightingale Concert Hall on the University of Nevada, Reno campus, and get to know her body of work that includes collaborations with artists like Sting, M.I.A., Herbie Hancock, and Pepe Habichuela.
Lady Luck Tattoo Arts & History Expo – From March 31 through April 2, tattoo artists and enthusiasts will celebrate ink art, culture, and history in downtown Reno. Explore art galleries and historical displays, shop unique vendors, participate in contests, or make an appointment to get tattooed by local and visiting artists.
WinterWonderGrass Tahoe Music & Brew Festival – Craft beer and bluegrass combine at WinterWonderGrass, a three-day festival that boasts of embodying the North Lake Tahoe lifestyle. More than 20 bands will perform on three stages March 31-April 2, accompanied by 16 local and regional breweries. WinterWonderGrass also emphasizes a commitment to sustainability, support of the arts, and local non-profits, making a fun-filled weekend even better.