What's New this Winter in North Lake Tahoe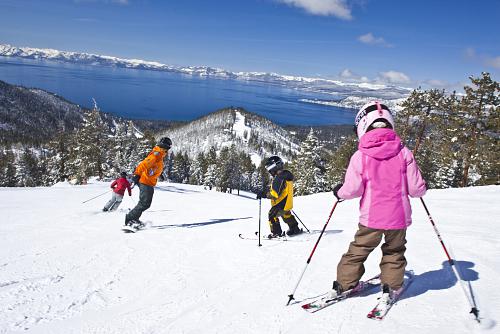 North Lake Tahoe, home to the nation's largest concentration of downhill ski resorts, plays host to a series of winter events. Guests can enjoy farm-to-table dinners with Olympians, live music, performing arts, and celebrations throughout the region.
For luxury après and wellness opportunities, North Lake Tahoe's spas incorporate indigenous stones and natural elements of the Sierra, including Northstar California's Tahoe Spa & Wellness Center, which tailors spa treatments for skiers and snowboarders. Various yoga studios offer diverse classes, including Squaw Valley's Wanderlust Studio, which debuts new AIReal Yoga classes.
Activities and Events
Alpenglow Sports hosts free community events this winter including:
During the Alpenglow Winter Film Series, showing through February 2019, four famous athletes tell stories about their adventures from remote mountain ranges across the globe.
Alpenglow Mountain Festival, February 16-24, 2019, is a collection of various mountain activities, geared toward pro and novice athletes.
Alpenglow Sports is located at 415 North Lake Boulevard in Tahoe City, California, and is open on weekdays from 10 a.m. to 6 p.m. and on weekends from 9 a.m. to 6 p.m.
Diamond Peak Ski Resort introduces The Village at Diamond Peak terrain park and an acclaimed STOKE (Sustainable Tourism Operator's Kit) Certification, in addition to the following seasonal events:
Enjoy Moonlight Snowshoe Hikes January 18, February 15, and March 15, 2019, a 1.5-mile hike to Snowflake Lodge (3 miles roundtrip), s'mores, and hot cocoa.
Last Tracks Wine and Beer Tastings, Saturdays, February 9 through April 13, 2019, are a great opportunity to sample fine wines, craft brews, and appetizers, with a freshly groomed run at sunset.
The Luggi Foeger Uphill/Downhill Festival, March 30-31, 2019, is a human-powered race to the top of the mountain and back down to the finish line where the fun continues with prizes and live music.
Learn about the area with Interpretive Ski Tours February 9, March 9, and April 13, 2019, where you will learn historical and environmental information about the resort and region.
Diamond Peak Ski Resort is located at 1210 Ski Way in Incline Village, Nevada, and is open daily from 8 a.m. to 4 p.m.
Tahoe Fusion, West Shore Cafe's new food truck, provides on-mountain dining, featuring a blend of Asian and Latin cuisines.
Homewood Mountain Resort is located at 5145 West Lake Boulevard in Homewood, California, and is open daily from 9 a.m. to 4 p.m.
Northstar California debuts family-friendly tubing at the Overlook, featuring fire pits for s'mores and spontaneous snowball fights. The signature Her Mountain Retreat Ultimate Girls Weekend includes Her Mountain Lessons, Platinum First Tracks access, and onsite yoga, January 26-27, February 23-24, and March 23-24, 2019. Platinum guests can participate in the iconic Töst tradition, a champagne toast near the top of Mount Pluto, with a complimentary glass of sparkling wine or cider every afternoon on East Ridge Run. All of this and more can be accessed with the Epic Pass, offering unlimited, unrestricted access to 19 mountain resorts plus additional access to 46 more.
Additional Northstar California events and offers include:
The Tahoe Spa, Yoga and Wellness studios, classes, and treatments designed for skiers and snowboarders.
Her Mountain Lessons: a program designed by women, for women, geared toward intermediate skiers or riders.
Northstar California Resort is located at 5001 Northstar Drive in Truckee, California, and is open daily from 8:30 a.m. to 4 p.m.
North Tahoe Recreation and Parks
North Tahoe Regional Park offers sledding, snowmobiling, cross-country skiing, and snowshoeing.
All Weather Soccer Field is plowed all winter long and is available for pickup games.
Tree Top Adventure Park, open weekends this winter, features 70 tree platforms connected by bridges and zip lines.
North Tahoe Recreation and Parks is located at 6600 Donner Road in Tahoe Vista, California, and is open daily from 7 a.m. to 5 p.m.
Squaw Valley and Alpine Meadows introduces the Ikon Pass, providing access to 36 destinations globally. The resort celebrated the 50th anniversary of the Aerial Tram in December of 2018. Mountain Tours offer complimentary historical tours and legendary stories of the mountain.
Disco Tubing is available through February 23, 2019 on select days. Spend the evening snow tubing while enjoying DJ tunes and colorful lights.
AIReal Yoga debuts at Wanderlust Yoga Studio.
Squaw Valley Ski Resort is located at 1960 Squaw Valley Road in Olympic Valley, California, and is open daily from 10 a.m. to 5 p.m.
Sugar Bowl Resort
Silver Belt Series, February-April 2019; D-Money's scavenger hunt (February 2); Banked Slalom (March 2); Quad Crusher (April 9).
Slide, Glide and Ride Sessions educate teens ages 13 and older about their equipment, and teaches how to stop, turn, and ride the lifts.
Sugar Bowl Resort is located at 629 Sugar Bowl Road in Norden, California, and is open daily from 9 a.m. to 4 p.m.