Fireside Lounge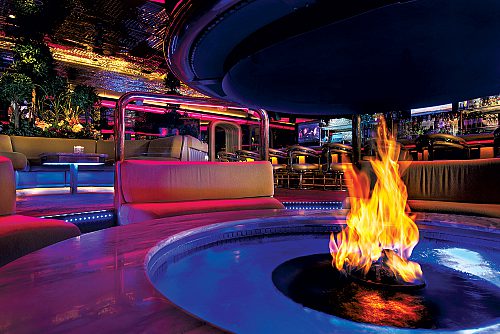 One of the best things about traveling is finding places that locals love but tourists might not give a second look: the little bars and restaurants that they almost hesitate to share. These spots earn a special place in our hearts for their perfect combination of charming atmosphere, stellar service, and delicious food and drink. The Fireside Lounge, located at both the Peppermill Resort in Reno and Peppermill Restaurant on the Las Vegas Strip, are go-to places to relax and have a drink while njoying some of the best vibes in town.
Part of the original Peppermill Coffee Shop & Lounge, Reno's Fireside Lounge has been around for nearly 50 years. Opened in 1971 by friends Nat Carasali and Bill Paganetti, the pair had specific goals of what they wanted the lounge to become. "We really wanted a romantic, casual lounge with couches or settee seating. We were looking to make it intimate," says Paganetti. Carasali elaborates, "The vision was to create a room for our customers that was appealing, great for conversation, and relaxing."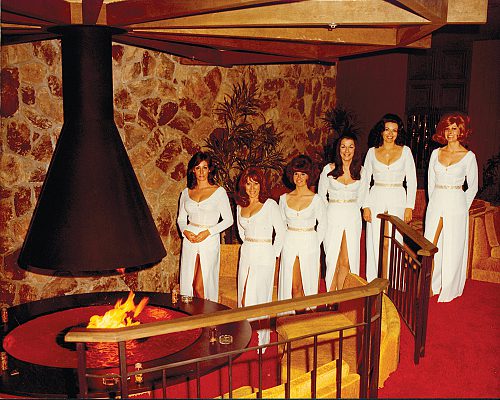 The space has been renovated over time to include new technology, but the timeless, classic atmosphere has stayed the same all these years. Plush booths are centered round the sleek firepit, and the whole lounge is reflected underneath a mirrored ceiling, scattering the light from the fire and classic neon fixtures. "Instead of creating a fireplace in the wall, we had the idea of making a venue with a sunken fireplace," recalls Paganetti. The designer of the fireplace, Stan Mannis, had the idea of creating a hearth using both fire and water, which resulted in a beautiful, unique signature. "The firepit as the centerpiece was the frosting on the cake," says Carasali.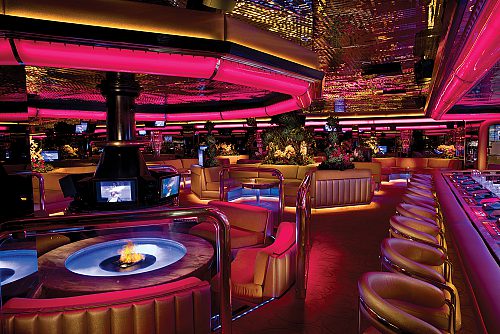 The comfortable, laidback energy and the well-crafted drinks have always drawn people to Reno's very first ultra-lounge. Guests from around the world find their way through the Fireside doors, and the lounge has played host to its share of celebrities as well. Recently, the Arctic Monkeys used it as part of the backdrop to their "Tranquility Base Hotel & Casino" music video, and multiple films have had scenes shot in the iconic space. No shortage of musicians, actors, chefs, and comedians have visited, some calling the lounge one of their favorite spots in the country. Once you've spent some time there yourself, it's hard to deny the appeal.
The Fireside Lounge is no stranger to local folklore. Bartenders throughout the years have their favorite Fireside stories to tell. Tales range from couples who met at the lounge on their first date and later shared their wedding proposal in the same booth, to even wilder accounts of customers "taking a dip" in the firepit water (please do not try this, it won't end well). Some people have even organized a yearly Fireside vacation where three generations of family members gather to reminisce and share their favorite cocktails.
While the environment alone is enough to get the party started, the drinks at the Fireside Lounge will keep the festivities going for hours on end. With a drink menu brimming with essentials like martinis, mudslides, and margaritas—and a killer wine and beer list, too—the experienced bartenders at the lounge can mix up almost any creation you'd like. Not to mention the 60-ounce specialty drinks including the Inferno (a sweet mixture of Malibu Rum, Blue Curacao, Stoli Strasberi, Grenadine, Sierra Mist, and Sweet & Sour) or the Scorpion (a tropical drink featuring Myers's Rum, Vodka, Cherry Brandy, Sweet & Sour, Ice Cream, and Grenadine) that are sure to satisfy.
Nightlife is ever-changing, and the Fireside Lounge has undoubtedly stood the test of time. Having a lounge that has not only survived but flourished for nearly 50 years is a testament to what the ownership has created. "There is no question that what we have done over the years has worked, as the experience our customers get today is as good or better than 40 years ago," Carasali explains. "There are two main reasons why the lounge continues to be popular: the environment we continue to create and our great team members who bring the lounge to life every day." According to Paganetti, "We weren't looking 50 years out when we created it, but we're still here and have no plans to go anywhere
So, whether you're looking for a casual or retro-chic place to hang with friends, the Fireside Lounge is the beloved locals hideout that you'll find yourself returning to every time you're in town. Sink into a booth, gaze into the fire, and enjoy your favorite drink while reliving the magic of the '70s in this hidden gem.
While you can't always be at the Fireside, there's no reason that you can't always enjoy some of its popular mixed drinks. Here are the recipes to some of the lounge's best classic cocktails.
White Linen
1½ oz Gin (we recommend Brooklyn Gin)
½ oz St-Germain
1 oz simple syrup
1 oz fresh lemon juice
1 lemon wedge
2 to 3 cucumber slices

Muddle lemon wedge and cucumber in a cocktail shake tin. Add all ingredients and add ice. Shake! Strain into martini glass or over rocks. Garnish with a cucumber wheel.
Oatmeal Cookie
¾ oz Kahlua
¾ oz Baileys Irish Cream
¾ oz Goldschläger
¾ oz Butterscotch Schnapps
2 scoops of vanilla ice cream (ours is house-made; we recommend picking up a pint of our vanilla gelato!)
Combine all ingredients in a blender with a half cup of ice and blend. Pour into a hurricane or tall glass, garnish with fresh whipped cream and a dash of cinnamon.