April's Top 15 Things To Do In Reno
If you've ever wanted to learn how to play the ukulele, dine at a chuck wagon, or discover if magic is real, there are events this month you just can't miss! April also includes two opportunities to drink beer for a good cause, multiple festivals, and the return of baseball.
Reno Ukulele Festival – The Reno Ukulele Festival returns to the Biggest Little City for its ninth year April 6-9, uniting musicians, music lovers and hobbyists in their appreciation of the ukulele. This four-day event at the Nugget Casino Resort offers workshops, open-mic opportunities, and a large vendor marketplace, in addition to two evening concerts with renowned ukulele artists.
Gaelynn Lea – Winner of the 2016 NPR Tiny Desk Concert competition, Gaelynn Lea combines popular folk and rock sounds with traditional Celtic and American fiddle and violin to produce a one-of-a-kind sound. As a sufferer of Brittle Bones Disease, she also uses her music as a platform to advocate for people with disabilities and promote social change. Catch her live at Bar One at Squaw Valley Olympic House on April 7.
Reno Aces Home Games – The Reno Aces, Triple-A affiliates of the Arizona Diamondbacks, return to Greater Nevada Field for the 2017 baseball season on April 11. A seven-game home stand kicks off with four games against the Albuquerque Isotopes and three against the El Paso Chihuahuas, followed by a stretch of road games before returning to Reno to take on the Fresno Grizzlies.
Toytopia – Toytopia takes over the Wilber D. May Center inside Rancho San Rafael Park now through April 16, inviting fun-loving guests of all ages to journey through a 100-year history of classic toys, games, and more. Play with the most popular toys over the past decades, doodle on the world's largest Etch-A-Sketch, explore life-size doll houses and Monopoly boards, and make your own stop-motion movie at this exhibit, with admission starting at $8.
Beer Fest – Join the Nevada Young Alumni chapter for Beer Fest, their annual fundraising event, on April 21. Admission is open to the public, and your ticket gets you all-you-can-enjoy beer from a variety of vendors plus a commemorative glass. Proceeds help fund undergraduate and graduate scholarships, with more than $60,000 raised over the past 15 years!
Brew, Brats & Ballet – Dine on delicious bratwurst and raise a pint to the Sierra Nevada Ballet as they host Brews, Brats & Ballet. The annual event, held April 22-23 at the Reno Little Theater and April 30 at the Brewery Arts Center, features short choreographic works from the company dancers, with three new musical compositions and intimate Q&A sessions with the composers and choreographers after each program.
Reno Earth Day – Idlewild Park will be home to more than 350 exhibits and activities for all ages April 23, as the community comes together to celebrate Earth Day. This year's theme is The Natural World, Clean and Green Technologies, and Many Cultures, which will be reflected across four stages of entertainment, arts and crafts stations, educational workshops, and outdoor games. Specialty foods and local brews will also be served.
Ignite Reno #17 – Ignite Reno is an ongoing series of five-minute presentations that cover almost any topic you can think of. Previous talks have discussed teleportation, coding, mining, comedy, and even life lessons learned from "Star Trek." See the latest show at The Saint on April 25, with tickets starting at $10.
Titus Andronicus – Self-described as Reno's second-best theatre company, Good Luck Macbeth performs Titus Andronicus in an intimate black box theatre setting April 28-May 20.Set in a woman's prison in 1920s rural Nevada instead of the last days of the Roman Empire, this version of the play will also be helmed by an all-female cast.
Reno Xtreme Barrel Race – Barrel racing contestants from more than 10 states will convene in Reno April 25-30, hoping to take home a share of hundreds of thousands of dollars in cash and awards. Competitors include amateurs and professionals from all age ranges, and many events are free to the public.
Reno Jazz Festival – Long considered one of the best of its kind in the world, the Reno Jazz Festival returns to the University of Nevada, Reno campus April 27-30 to showcase jazz greats and emerging new artists. Headliners this year include Don Byron with The Collective and The Bad Plus Joshua Redman in addition to the Festival Showcase and Awards Ceremony.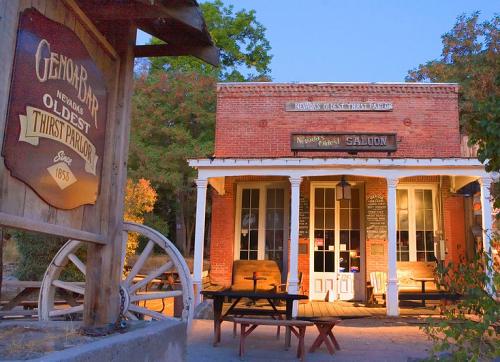 Genoa Cowboy Festival – Travel to Nevada's oldest town and celebrate the cowboy way of life at the Genoa Cowboy Festival, April 28-30. There will be ranch tours, Dutch oven cooking demonstrations, western shootouts along with cowboy poetry, headliner concerts, and music and dancing. Come hungry, as there will be chuck wagon grub and Basque specialties, too!
The Illusionists – Straight from Broadway, seven of today's most incredible illusionists have come together to perform mind-blowing acts that dazzle audiences of all ages. Limited to just five shows, you won't want to miss their magic April 28-30 at the Pioneer Center for the Performing Arts.
Cinco de Mayo Festival – Northern Nevada's largest annual celebration of Latino heritage turns Cinco de Mayo into a two-day festival full of fun. Enjoy Mexican dancing horses, amateur boxing bouts, carnival rides, and vendor and expo activities that include face painting, arts and crafts, food, and more April 29-30.
Virginia City Grand Prix – Nearly 1,000 dirt bike racers descend on the historic mining town for the Virginia City Grand Prix every year, traversing challenging terrain at speeds up to 90 mph for their shot at taking home first place honors. Cheer for your favorites April 29-30, and enjoy antique shopping, mine tours, and ghost hunting adventures in the meantime.