The Basement
Located along the banks of the Truckee River since 1933, the historic downtown Reno post office is bustling with activity again thanks to retail revitalization from The Basement. While the art deco building's windows peer into West Elm, a major modern furniture and home goods purveyor, half a dozen individual businesses can be found inside The Basement. From coffee and barber shop to fitness and distillery, step downstairs and discover everything this industrial chic space has to offer.
Let a professionally trained barber give you the best haircut, fade, or razor shave of your life at Beautiful Bearded Man. Enjoy five-star services at reasonable prices or let the experts introduce you to your new favorite shaving and haircare products. Make sure to call for an appointment, though, as Beautiful Bearded Man does not currently accept walk-ins.
An Industrial style Coffee Shop located in The Basement Reno, on the bottom floor of West Elm. Along with tables and couches in our shop, we also have a welcoming common area used to enjoy your food and beverages while you're studying or socializing.
Seven Troughs Distilling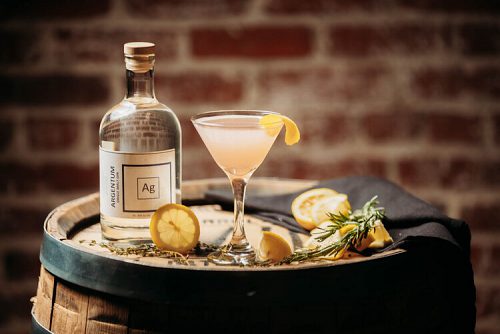 Seven Troughs Distilling Company is a craft distillery focused on creating high-quality spirits utilizing local ingredients. They produce brands from locally made products in small batches to ensure quality. Their corn and barley come from Yerington and Gardnerville, Nevada. They utilize a mid-19th century fermentation and distillation process to manufacturer moonshine, rum, vodka, gin, and bourbon.
NØRDIK's products are carefully curated to honor the craftsmanship of the selected brands and designs. The products they offer are smartly designed, durable, and timeless. They are meant to last a lifetime, ideally passed onto the next generation – never to be thrown away. They are dedicated to providing exceptional quality and outstanding customer service in this Scandinavian design store.
Micah Blank Jewelry is a luxury design studio for the discerning consumer. They specialize in recycled gold & exceptional stone-setting and focus on high-end, alternative design, with sustainability in mind.
Billed as an over-the-top sensory experience, Escape is a workout unlike any other. Cycling and boxing classes take place in a dimly lit space with themed lighting and heart-pounding music to help you break a sweat and reach your goals. Class themes include "Techno Trap," "Funky Fresh," and "Seize the Slay Ride."