September 2018's Top 15 Things to do in Reno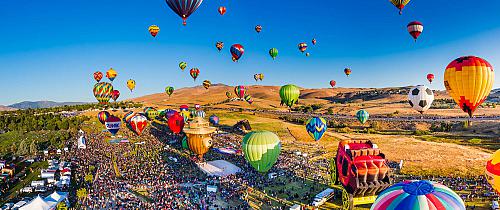 With so many fun-filled events on the calendar this month, we can't help but dance our way into September. Start sending your RSVPs now if you want to sample Nevada's best beers, cheer for racing camels and ostriches, rev it up at a motorcycle rally, and more.
First Fridays with The Comedy Collective – Get ready to laugh with The Comedy Collective when they host First Fridays at Reno Tahoe Comedy, located below the Pioneer Center for the Performing Arts. The cast of seasoned performers presents fast-paced, quick-witted, completely improvised comedy on September 7.
59th Annual International Camel & Ostrich Races – Started as a farce between rival newspapers in the 1950s, the International Camel & Ostrich Races are now a long-standing tradition in Virginia City. Cheer on camels, ostriches, and zebras as they jockey for first place September 7-9. Stick around after the races for a drink at the local watering holes, or participate in your own camel ride or attempt at ostrich wrangling.
33rd Annual Lake Tahoe Autumn Food & Wine Festival – Get ready to wine and dine at Lake Tahoe's most prestigious food and drink event. Held September 7-9 at Northstar California Resort, the event features farm-to-table dinners, wine tastings, hands-on cooking and mixology demonstrations, a gourmet vendor fair, and much more.
The Great Reno Balloon Race – More than 80 hot air balloons of all shapes and sizes will take to the skies during The Great Reno Balloon Race on September 7-9. Mornings will be full of Glow Shows, Dawn Patrols, and Mass Ascensions at Rancho San Rafael Regional Park, and you can grab breakfast on Balloon Boulevard, where food, souvenirs, and arts and crafts will be sold.
National Championship Air Races – Combining the world's fastest motorsport with spectacular military and civilian air entertainment, the National Championship Air Races take place September 12-16 at Reno Stead Airport. Six different classes of race planes will compete just 50 feet from the ground, and this year's air show includes the Patriots Jet Team, the Smoke 'n' Thunder Jet Truck, the Air Combat Command F-16 Viper Demonstration Team, and more.
Nevada's Best Taco Fest – Bring an appetite to Nevada's Best Taco Fest, where local restaurants and food trucks will serve tacos of all styles in hopes of taking home top honors. The festival, held September 15-16 at the Sands Regency, also includes lucha libre wrestling, chili pepper and salsa challenges, a taco eating contest, and a Chihuahua beauty pageant.
Reno 1868 FC Home Games – You'll have four chances to see Reno 1868 FC, the city's United Soccer League team affiliated with Major League Soccer's San Jose Earthquakes, at Greater Nevada Field this month. They face LA Galaxy II on September 15, and then play in-state rivals Las Vegas Lights FC on September 22. Before taking the pitch against Tulsa Roughnecks FC on September 29, the hometown team tangles with Rio Grande Valley FC on September 26.
EnduroCross – Off-road racing comes to the Reno-Sparks Livestock Events Center on September 22 when EnduroCross brings its custom track full of obstacles back to the Biggest Little City. Athletes – including Series Champions Cody Webb and Colton Haaker and X Games medalists Kacy Martinez and Tarah Gieger – will race against each other while battling boulders, logs, giant tires, a water crossing, and the infamous "No Joke Lane."
Social Science: CSI – Put your detective skills to work at The Discovery's after-hours, adults-only event on September 22. Explore the science that solves crimes while you pose for a mugshot, create blood splatter artwork, gather scene evidence, learn the intricate art of an autopsy from Washoe County Medical Examiner's Office staff, and more. Small bites and drinks will be served as well.
Very Potter Crawl – Accio drink specials! Grab your wand and choose your house cup for the Very Potter Crawl, inspired by everyone's favorite world of wizardry. A dozen of downtown Reno's bars will participate on September 22, with themed go-go dancers, DJs, and live entertainment along the way.
Cinderella – Restaged and re-choreographed by Alexander Van Alstyne of the A.V.A. Ballet Theatre, "Cinderella" comes to the Pioneer Center for the Performing Arts September 22-23. The Reno Philharmonic Orchestra will perform the score while guest professional dancers will join the local ballet cast.
Street Vibrations – Motorcycle mania takes over the Biggest Little City when Street Vibrations rumbles into town September 26-30. Hit the open road for poker runs and scavenger hunts, or cruise downtown Reno on foot for gear and previously owned rides, live entertainment on six outdoor stages, and expos for both tattoos and custom bike builders.
Nevadafest – Raise a glass (or two) at Nevadafest, a celebration of craft beer made right here in the Battle Born State. Your ticket includes unlimited tastes from more than 20 breweries on September 29, along with a commemorative cup and a meal from one of the many food trucks on site. Live music and giant outdoor games like Jenga and cornhole will provide the entertainment.
Dine the District Food Tour – Set alongside the Truckee River, Reno's Riverwalk District is home to boutique shopping, a flourishing nightlife scene, and a wide range of culinary delights. Explore them all when you partake in the Dine the District Food Tour and sample everything from coffee and chocolate to pizza and small bites. More than a dozen local businesses will participate on September 29, so come hungry.
Genoa Candy Dance – Started in 1919 as a fundraiser for purchasing and maintaining street lights, the Genoa Candy Dance celebrates 99 years of history September 29-30. More than 300 vendors – all selected for their quality products and unique wares – will have homemade candy, food, arts and crafts, and more for sale in Genoa, Nevada's oldest settlement. Buy tickets in advance for Saturday night's Candy Dance and Dinner, as seating is limited.