September 2017's Top 15 Things to Do in Reno
Protect yourself from FOMO – "fear of missing out" – by marking your calendar now for all the fun stuff going on this September. We wouldn't want you to lose your chance to candy dance, bike for barbecue, or rock a prom dress.
Best in the West Nugget Rib Cook-Off – Held every year in downtown Sparks, the Best in the West Nugget Rib Cook-Off is the biggest barbecue festival in the U.S. Dozens of the world's best competitors serve up more than 240,000 pounds of ribs, each bringing their secret recipe with hopes of winning top honors. Enjoy vendors and entertainment while you're chowing down August 30 through September 4.
Numaga Indian Days Pow Wow – Named after Chief Numaga, the famous Paiute leader known for peace, the Numaga Indian Days Pow Wow annually features some of the best Native American drummers, dancers, and singers in the country. Taking place in Hungry Valley from September 1-3, the free, family-friendly event also has more than 25 vendors selling traditional native foods and handmade arts and crafts.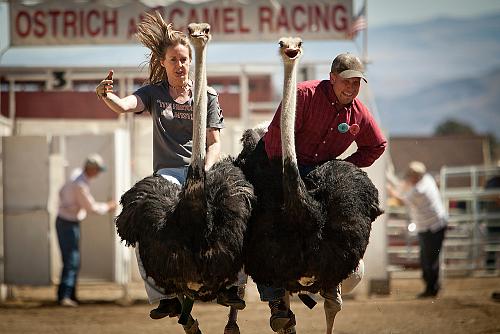 58th Annual International Camel & Ostrich Races – What started as a farce is now a long-standing tradition in Virginia City. Cheer for your favorite camel, ostrich, or zebra as they jockey for first place September 8-10. Stick around after the races for a drink at the local bars, as the thirsty contenders have been known to duck in for a drink.
Lake Tahoe Autumn Food & Wine Festival – Wine and dine at Lake Tahoe's most prestigious food and drink event, held at Northstar California Resort from September 8-10. There will be farm-to-table dinners, winemaker luncheons, hands-on cooking demonstrations from celebrity chefs, and so much more.
The Great Reno Balloon Race – More than 80 hot air balloons will fill the sky during The Great Reno Balloon Race, the largest free hot air balloon festival in the world. From September 8-10, Rancho San Rafael Park is the place to be for Super Glow Shows, Dawn Patrols, and Mass Ascensions. Pajamas and bed head welcome.
Balloons and Blues Strut – Don your finest "Blues Brothers" suit and fedora for the Balloons and Blues Strut on September 9. Local blues bands will take the stage at four different venues – all offering drink specials – along Sparks' Victorian Avenue. Tickets are just $5, with the proceeds supporting the Reno Blues Society.
Reno Snaffle Bit Futurity – Dating back to the early American West, time-honored vaquero horse training methods are on display at the Reno Snaffle Bit Futurity. Three-year-old equine athletes will compete in herd, rein, and fence work categories September 11-17 at the Reno-Sparks Livestock Events Center, with more than $55,000 in prize money up for grabs.
National Championship Air Races – The world's fastest motor sport combines with spectacular military and civilian air entertainment at the National Championship Air Races, taking place at Reno Stead Airport September 13-17. Watch six different classes of race planes fly just 50 feet above the ground and get up-close access to aircraft, pilots, and crews in the pits.
Edible Pedal 100 – All levels of cyclists are invited to bike the Edible Pedal 100, a fundraiser for the Rotary Club of Reno Sunrise. On September 17, riders will start at Bowers Mansion Regional Park in Washoe Valley and take one of five routes with distances of 10, 32, 50, 74, and 100 miles. There's a post-ride barbecue serving locally sourced food, and the 10-mile route is free for children five years and younger.
Nevada's Best Taco Fest – Taco enthusiasts, make plans to spend September 16-17 at the Sands Regency. Local restaurants and food trucks will serve up their best hard and soft-shell offerings, all competing to have Nevada's best taco. In addition to good eats and live music, you won't want to miss eating contests, a Chihuahua beauty pageant, and the Lucha Libre King of the Tacos Tournament.
Downtown Reno Prom Pub Crawl – Powder blue tuxedos and puffy prom dresses are back in style when the Downtown Reno Prom Pub Crawl dances the night away September 16. Serving as a fundraiser for Aly's Prom Closet and the Nevada Diabetes Association, tickets start at just $5 and come with beer and cocktail specials, corsages and boutonnieres, and classic prom photos.
Genoa Candy Dance – Started in 1919 as a fundraiser for purchasing and maintaining streetlights, the Genoa Candy Dance is still going strong after 98 years. From September 23-24, more than 300 vendors will have homemade candy, food, arts and crafts, and more for sale in Genoa – Nevada's oldest town. Buy tickets in advance for Saturday night's Candy Dance and Dinner, as seating is limited.
Swan Lake – Re-staged and re-choreographed by Alexander Van Alstyne, the A.V.A. Ballet Theatre presents "Swan Lake" for two performances at the Pioneer Center for the Performing Arts, September 23-24. Professional dancers from Ballet San Antonio will star in the lead roles, while the Reno Philharmonic Orchestra will perform the classic score.
SUPERCRAWL Rock Crawling World Championship – Off-road vehicles will climb insane obstacles and epic heights at the SUPERCRAWL Rock Crawling World Championship, held September 23-24 at the Wild West Motorsports Park. More than 70 top teams from five countries will compete in five classes, with tickets starting at $15 for adults and $5 for children.
Street Vibrations – Motorcycle mania takes over the Biggest Little City when Street Vibrations returns September 27 through October 1. Hit the open road for poker runs and scavenger hunts, or cruise downtown Reno by foot for gear and previously owned rides, vendor booths, live entertainment on six outdoor stages, and a Miss Street Vibrations competition.