October 2018's Top 15 Things to Do in Reno
When it comes to events, you don't have to choose between tricks and treats this October. Celebrate the month's spooky spirit at zombie prom or a ghost hunting excursion, or revel in fall fun at outdoor food festivals and pumpkin parties.
Young Frankenstein – Frederick Frankenstein (pronounced "Fronk-en-steen") inherits his family's estate in Transylvania, and with the help of a hunchbacked sidekick named Igor (pronounced "Eye-gor") and a leggy lab assistant named Inga (pronounced normally), he finds himself in the mad scientist shoes of his ancestors. When the creature Frederick brings to life escapes, hilarity ensues. Good Luck Macbeth brings this record-breaking Broadway sensation to the Biggest Little City October 5 through November 3.
Fastest Gun Alive World Championship – Travel back in time to the Old West at the Fastest Gun Alive World Championship, held October 4-7 at the Churchill County Fairgrounds in Fallon. Fast draw enthusiasts from all over the world will compete with six shooters and wax bullets in western-style clothing with pre-1900-style holsters. With speeds reaching 650 feet per second, blink and you'll miss the shots!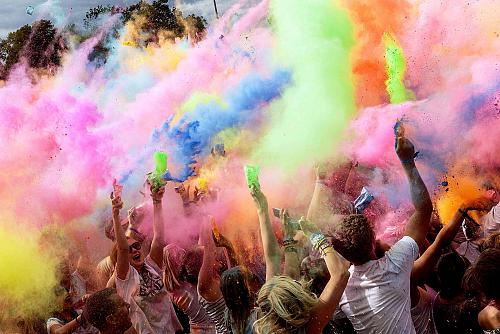 Festival of Colors – Celebrate the changing of the seasons at the Festival of Colors, where packets of colored powder will be tossed in the air hourly so revelers can sing, dance, and throw their worries away (and take some amazing photos in the process). Live mantra bands, kirtan singers, yoga classes, and Bollywood/Bhakti Fusion dances complete the experience at Rancho San Rafael Regional Park on October 6.
Eldorado Great Italian Festival – Grape stomps, sauce competitions, wine walks, and an Italian farmers market make downtown Reno feel like Little Italy when the Eldorado Great Italian Festival returns October 6-7. Arrive with a big appetite for traditional dishes served street side and an Italian food buffet.
World Championship Outhouse Races – It all began when Virginia City, a now-historic mining town, outlawed outdoor plumbing. In protest, angry residents took their outhouses to the streets, a tradition that now carries on annually at the World Championship Outhouse Races. Decorated outhouses and costumed racers strive for glory October 6-7, preceded each day with the Parade of Outhouses that must be seen to be believed.
Reno Bites Restaurant Week – Now in its seventh year, and expanded to two weeks for the first time, Reno Bites Restaurant Week encourages residents and visitors alike to explore the city's thriving culinary scene. The event includes hosted dinners, foodie tours, exclusive specials, and chef competitions October 8-21.
Reno Zombie Prom – Break out the taffeta and tuxes for Reno Zombie Prom! Cargo hosts this undead dance party on October 13, and you won't want to miss out on prom photos, costume contests with prizes, zombie makeovers, and the crowning of prom king and queen. Zombies must be at least 21 years old to attend, and all proceeds will be donated to the Wounded Warrior Project.
Southern Fare on the Square – Take your taste buds on a trip to the South, no travel required. Catfish, alligator, frog legs, jambalaya, fried green tomatoes, and so many more regional favorites will be waiting for you at Southern Fare on the Square, held October 13-14 at Sparks' Victorian Square. Music legend Jerry Lee Lewis performs his hits, including "Great Balls of Fire" and "Whole Lotta Shakin' Going On," inside the Nugget Casino Resort Ballroom on Saturday night as well.
Reno Mini Maker Faire – Scientists, artists, programmers, musicians, students, and more will come together at the Reno Mini Maker Faire to celebrate a love of making any and all sorts of things. This family-friendly showcase of invention, creativity, and resourcefulness takes place October 14 at Wingfield Park, and attendees can participate in hands-on activities, workshops, demonstrations, and more.
Rocky Horror Picture Show – Brush off your dancing shoes and get ready to do the time warp again. "Rocky Horror Picture Show," complete with audience participation, shadow actors, and prop kits, returns to Greater Nevada Field on October 19.
Grand Sierra Beer and Chili Festival – Welcome fall weather with a hot bowl of chili and a frosty pint of beer at the Grand Sierra Beer and Chili Festival. From October 20-21, serious chili chefs will bring their best recipes to compete for daily championships, and local and regional craft beer favorites will help cleanse your palate between samples.
Reno Zombie Crawl – The undead return to life for one night only when the Reno Zombie Crawl takes over downtown Reno on October 20. Named one of the top 10 best costumed Halloween parties in the nation by USA Today, more than 50 bars participate with beer and cocktail specials. You'll find zombie karaoke, photo booths, makeup stations, and dance parties along the way.
Pumpkin Palooza – Pumpkins are the star of the show at Pumpkin Palooza, returning to Victorian Square in Sparks with fun for the whole family on October 21. Attendees can build and race pumpkins in the Pumpkin Derby, decorate jack-o'-lanterns, participate in a costume parade, hear stories in the haunted schoolhouse, and compete in numerous contests. The festival benefits the Northern Nevada Center for Independent Living.
A Haunting on the Comstock Hills – if you ain't afraid of no ghosts, join the Northern Nevada Ghost Hunters as they search for spirits at some of the state's most haunted locations. A Haunting on the Comstock Hills will take you to Gold Hill Hotel, the Donovan Mine, and an undisclosed location rarely opened to the public after dark on October 27. You can also take part in a séance the night before…if you dare.
Nevada Day Parade – Nevada turns 154 this year, and you're invited to its themed "A State of Economic Diversity" birthday party on October 27. The Nevada Day Parade in Carson City will feature state and local dignitaries, costumed characters from our past, and dozens of decked out floats, with a hot air balloon launch and military flyover beforehand. Stick around for a tour of the Governor's Mansion, the Nevada Day Beard and Single Jack Drilling contests, and more.