October's Top 15 Things to do in Reno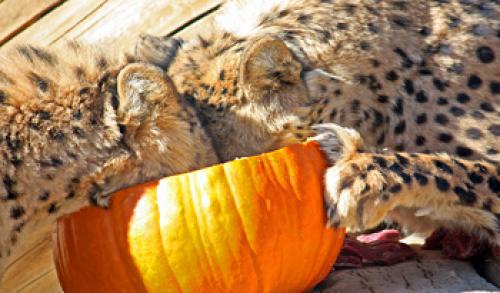 Pumpkins and zombies and festivals, oh my! There's no shortage of events throughout Reno this October, many of which will get you into the spook-tacular Halloween spirit.
CrossReno Cyclocross – Cyclocross combines bikes with off-road terrain to create a sport best described as organized chaos. See it for yourself at CrossReno on October 1, where top cyclocross pros will compete for a $10,000 cash prize. The event will also include skills clinics for adults and children, free amateur races, live music, and a craft beer garden.
Reno Celtic Celebration – Spend the weekend of October 1-2 celebrating Celtic culture with events including live pipe bands, Scottish and Irish dancers, and Highland games at Bartley Ranch Regional Park. The family-friendly festival invites kids to meet Celtic critters at the Animal Village and to take part in their own athletic competitions.
World Championship Outhouse Races – Twenty-seven years ago, angry Virginia City residents took their outhouses to the streets after outdoor plumbing was outlawed by the local government. Since then, the historic mining town has kept tradition alive by hosting annual outhouse races down Main Street, featuring awards for categories like Ugliest Outhouse, Prettiest Outhouse, and Most Unusual Outhouse. Relive a piece of Nevada's history and honor the golden age of outdoor plumbing from October 1-2.
Slaughter House at Greater Nevada Field – Reno's top-rated haunted house opens for the season on October 6, tempting those brave enough to discover what lurks beneath the ballpark. Open every weekend through Halloween, the Slaughter House promises to terrify with all new scares and attractions this year.
Eldorado Great Italian Festival – Enjoy the sights, sounds, and tastes of Italy from the Biggest Little City during the Eldorado Great Italian Festival. During the weekend of October 8-9, guests of all ages can partake in grape stomping, sauce sampling, and the Eldorado's Famous Italian Dinner Buffet. Make sure to save room for the street food – traditional Italian fare includes deep-fried ravioli, sausage sandwiches, chicken Parmesan, and more.
RedRun – Think you can survive a zombie apocalypse in one of the world's most haunted cities? RedRun 4 descends on Virginia City on October 8, where runners will race for their lives through zombie "dead zones," obstacles, and revive stations. If that's not enough, the zombies will grab for your waist-worn flags along the way as the living insane pelt you with color bombs. Traverse centuries-old tunnels, mining bunkers, cemeteries and abandoned buildings, and hope you make it out alive.
Reno Bites Restaurant Week – Explore the area's emerging culinary scene during the fifth annual Reno Bites Week, held October 10-16 with restaurants participating all over town. Featuring prix fixe menus, specialty dishes, and signature events, the week culminates with a Chef Showdown where Reno's best chefs will compete for prizes and bragging rights.
Animal Ark Harvest Festival – Throughout the day on October 15, Animal Ark's wildlife residents – including cheetahs, mountain lions, and black bears – will each receive a pumpkin filled with their favorite treats. A unique and delicious meal, you won't want to miss how much these animals enjoy their seasonal surprise.
Oktoberfest Harvest Jamboree – Combine the City of Sparks with Oktoberfest and you get Sparktoberfest, a day-long fair held October 15 in Victorian Square that celebrates German culture across Europe. Sample local craft beers, enjoy traditional food, or participate in the Bier Spiele, a comical tournament of skills and stamina with prizes and awards for participants.
37th Annual Pumpkin Patch & Fall Festival – A longstanding fundraiser for Incline Village Nursery School, this yearly event returns on October 15 to entice families with pumpkin sales, pumpkin decorating, pony rides, carnival games, and more. Various live music acts will perform throughout the day, and numerous local and regional vendors will have items available for sale before the holiday rush.
ACTRA National Finals – Once a year, Reno is home to the American Cowboys Team Roping Association's National Finals, where competitors from all over the country compete for the national title. From October 16-22, fans are invited to Reno-Sparks Livestock Event Center to watch team roping events for free, as well as shop the many vendors offering everything from furniture and home goods to clothing, jewelry, and more.
Reno Zombie Crawl – Named one of the 10 best costumed Halloween parties in the United States by USA Today, the Reno Zombie Crawl returns from the dead for its ninth year in a row on October 22. More than 20,000 participants, often in elaborate costumes, are expected to descend on 50 different bars to take advantage of hundreds of drink specials and compete for prizes. One thousand zombies will perform Michael Jackson's "Thriller" under the iconic Reno Arch during the crawl, creating a sight you will have to see to believe.
Tilting the Basin: Contemporary Art of Nevada – Currently on display through October 23, this latest exhibit from the Nevada Museum of Art features more than 30 artists living and working throughout Nevada. Each influenced by the state in a different way, artwork media ranges from paintings, drawings, and photography to street art, sound performances, and sculpture.
PumpkinPalooza – Celebrating all things pumpkin, PumpkinPalooza takes over Sparks' Victorian Square with old-fashioned fun for the whole family on October 23. Named a top 10 fall event by Food Network Magazine in 2014, the event features a pumpkin derby, a pumpkin beauty pageant, and contests like marshmallow shooting, pie eating, and mummy wrapping. Proceeds benefit the Northern Nevada Center for Independent Living.
Nevada Day Parade – October 31 means more to Nevada than just Halloween. On this date in 1864, Nevada officially became the 36th state to enter the union. Join us in celebrating the Battle Born State on October 29, where more than 200 parade entries including floats, marching bands, horses, celebrity guests, and more will gather in Carson City, the state capital. Special events also include the Lieutenant Governor's Chili Feed, the Nevada Day Beard Contest, and tours of the Governor's Mansion.