July 2017's Top 15 Things to do in Reno
Reno has something for everyone this July, whether you're into capes, celebrities, or camels. Don't miss these upcoming events, festivals, and activities!
Artown – An annual, month-long summer arts festival, Artown celebrates the best performers and artists in Northern Nevada July 1-31. More than 500 events, many of which are free or low cost, take place all over the city, highlighting music, dance, theater, and film. The schedule also includes workshops, art walks, parties, and family-friendly activities for children.
Biggest Little City Wing Fest – If you're a self-proclaimed wing king or queen, don't miss the Biggest Little City Wing Fest from July 1-2 in downtown Reno. More than 20,000 pounds of chicken wings will be served from dozens of local and regional vendors, each competing for trophies in categories including Best Hot Wing, Best Sweet Wing, and People's Choice.
Fourth of July – There is no shortage of fireworks, food, and fun for the Fourth of July. Greater Nevada Field and Nugget Casino Resort will each put on grand displays of pyrotechnics, or you can travel to Virginia City for its annual main street parade and fairgrounds firework show. In Fernley, less than an hour from Reno, enjoy afternoon activities that include catching a greased pig, a watermelon-eating contest before fireworks light up the night sky.
Next to Normal – A darkly funny Tony Award-winning musical, "Next to Normal" takes audiences on a journey through what some call everyday life and others call illness. Bruka Theatre performs this one-of-a-kind show with 30 original songs from July 7-30, with matinee performances on July 16 and 30 at 2pm.
Lake Tahoe Shakespeare Festival – Shakespeare's classic works come to life in the beauty of Sand Harbor during the Lake Tahoe Shakespeare Festival, held July 8 through August 27 this year. Catch beachside performances of Love's Labour's Lost and The Hound of the Baskervilles Tuesdays through Sundays, and enjoy shows from Sierra Nevada Ballet, the Reno Jazz Orchestra, and the Reno Philharmonic on Mondays.
Midtown Mural Tour – Reno's Midtown District is home to more than 60 murals painted by local, national, and international artists, with new works of art popping up nearly every week. Art Spot Reno hosts a guided tour of these often hidden gems on the second Saturday of every month, with tickets available for just $10. Bring a camera for the two-hour leisurely walk on July 8.
American Century Celebrity Golf Championship Tournament – Considered to be the country's most prestigious and richest celebrity golf tournament, more than 80 sports and entertainment stars will hope for a hole in one at Edgewood Tahoe Golf Course July 11-16. Help raise money for local and national charities while keeping an eye out for Steph Curry, John Elway, Justin Timberlake, Aaron Rodgers, and more.
Reno Basque Festival – Celebrate the heritage and history of Reno's Basque culture at this annual festival that takes place July 15 at Wingfield Park. Dine on traditional food as you watch music and dance performances, or enter the weight-carrying, wood-chopping, and war cry contests.
Discover Dickerson – Dickerson Road is a hidden gem of the Biggest Little City, and Art Spot Reno wants to help the community discover everything it has to offer. More than a dozen businesses will be hosting free open houses on July 15, along with live music, food trucks, performance art, kid-friendly craft activities and more lining the street. Oxbow Nature Study, an urban oasis, awaits you at the end of Dickerson Road as well.
Superhero Crawl – One of the largest of its kind, the Superhero Crawl returns to downtown Reno on July 15. Thousands of Batmen, Supermen, Wonder Women, and Catwomen will protect locals and tourists from wayward villains in more than 10 bars, and enjoy beer and cocktail specials as their reward.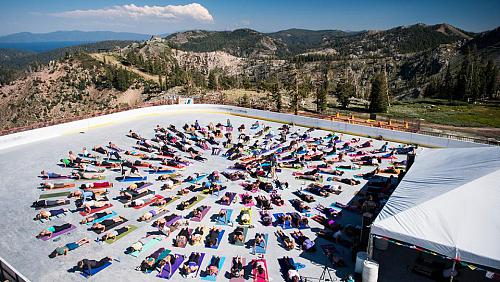 Wanderlust Yoga & Music Festival – A self-described transformational retreat, Wanderlust Yoga & Music Festival brings together world-renowned yoga and meditation instructors, musical performers, speakers, artists, and chefs for a unique four-day experience. Attend all-level sessions and workshops, sample organic eats and drinks, or let the nature of Squaw Valley reset and inspire you July 20-23.
Northern Nevada Pride Festival – Love is love at the Northern Nevada Pride Festival and Parade, taking place at Wingfield Park on July 22. Start the day with a free parade along California Avenue, followed by a festival with two stages, a dance tent, food and drink, vendors, and themed areas. A $5 donation is requested to attend the all-day festival.
Feed The Camel – Spend every hump day now through September 30 at Feed The Camel, an evening full of food trucks and local beer at the McKinley Arts and Culture Center. Across from the beautiful Truckee River, it's the chillest way to enjoy some good eats and beat the summer heat.
37th Annual Squaw Mountain Run/Hike/Flower Walk – Hundreds of runners and hikers will make their yearly pilgrimage to the top of Squaw Valley at the 37th Annual Squaw Mountain Run/Hike/Flower Walk on July 29. The 3.6-mile course climbs 2,000 feet in elevation to finish at High Camp, where awards, music, refreshments, and a raffle will be waiting to greet you. Participants can also opt to take the cable car up to the top for a guided flower walk on gentle, rolling terrain.
City of Dust: The Evolution of Burning Man – Explore the history of Burning Man at the Nevada Museum of Art through never-before-seen photographs, artifacts, journals, sketches, and more, on display now through January 8, 2018. Whether you're new to the playa or a seasoned burner, this exhibit is not to be missed.