February 2018's Top 15 Things to Do in Reno
There are 28 days in the month of February, and we've already found you plans for 15 of them. Save these dates so you can coffee (and beer) crawl, clap quietly for silent films, marvel at Nevada's nuclear past, and more.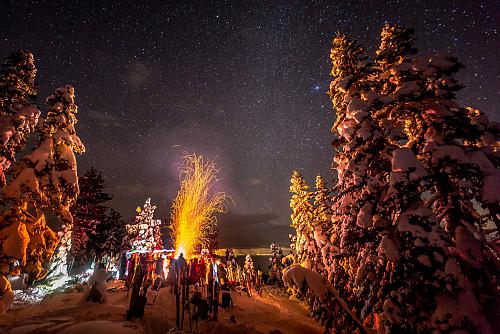 The Royale – Good Luck Macbeth opens its 10th season with "The Royale," a play set in the racially segregated world of boxing in 1905. Jay "The Sport" Jackson dreams of becoming the undisputed heavyweight champion of the world, and a crooked boxing promoter hatches a plan to get him in the ring with the reigning white titleholder for the fight of the century. Performances run February 2-24.
Reno Coffee Crawl – Calling all caffeine lovers! The inaugural Reno Coffee Crawl is here to introduce you to many of the locally-owned coffee shops in Midtown and downtown Reno. Pick up your tickets and map inside The Basement on February 3, then make your way to more than a dozen stops featuring tastings, tours, demonstrations, and live music. All proceeds will benefit Eddy House and A Little Juice Project.
Chain Mail Basics – If you're in the market for a unique hobby, consider learning how to weave your own chain mail. The Generator teaches two Chain Mail Basics courses this month, on February 5 and 20, in addition to classes like Hella Basic Welding (February 12 and 25) and its Easy Peasy Quilting Series (February 24).
2018 Oscar Shorts Film Festival – Get an early start on this year's Academy Awards at the 2018 Oscar Shorts Film Festival, presented by KUNR and University of Nevada, Reno's Joe Crowley Student Union. From February 9-13, film buffs can predict the winners in Animated, Live Action, and Documentary screening categories.
The Open House – Family dysfunction has never been so fun. Restless Artists' Theatre performs Will Eno's award-winning comedy "The Open House" February 9-25.
Capes & Cocktails – On February 10, the Wilbur D. May Museum hosts Capes & Cocktails, an after-hours event for adult superheroes. Leave your little sidekicks at home as you explore the Hall of Heroes exhibit, which features movie props, costumes, memorabilia, and hands-on stations to test your own heroic abilities. If you come in a superhero costume, you'll receive one extra drink token, too!
Reno Mardi Crawl – The Biggest Little City will feel more like The Big Easy when the Reno Mardi Crawl returns on February 10! More than a dozen bars, clubs, and taverns will be handing out beads and offering beer and drink specials throughout downtown Reno, in addition to live entertainment and a foot parade.
Cocoa for a Cause – Shopping for your sweetheart this Valentine's Day? On February 11, Peppermill Reno will be selling $10 boxes of See's Candies chocolate truffles during Cocoa for a Cause, the resort's annual fundraiser for local non-profit organizations. This year, all event proceeds will benefit Nevada Humane Society.
Classix Four – Star Wars: The Music – As part of its annual Classix series, the Reno Philharmonic presents "Star Wars: The Music" on February 11 and 13. John Williams' iconic score will come to life, as will the monumental works that inspired him. Davidson Fellow Joe Broom will also perform on the euphonium, a brass family instrument more commonly found in bands than orchestras.
Brew HaHa – Raise a glass for a great cause! Benefitting the Sierra Arts Foundation, Brew HaHa brings more than 100 micro and macro beers to the Nugget Casino Resort on February 16. As you taste, the female-fronted funk band Mojo Green will bring down the house.
Alpenglow Sports Mountain Festival Winter – Travel to Tahoe City and enjoy nine days of human-powered mountain sports and activities when the Alpenglow Sports Mountain Festival Winter comes to town February 17-25. With free and ticketed events, attendees can partake in backcountry ski tours, snowshoeing with your dog, yoga, live music, seminars, clinics, and much more.
Freeze Your Pints Off – Featuring beers and spirits made right here in Reno, Freeze Your Pints Off celebrates winter warmers and strong, barrel-aged brews. Hosted by Under the Rose Brewing Company on February 17, the afternoon event keeps the party going with a local DJ and food trucks. Designated drivers will get unlimited coffee, tea, and hot chocolate, too.
Edna Purviance & Charlie Chaplin Silent Film Festival – Watch silent film classics the way they were meant to be seen. Accompanied by live piano, the Reno Little Theater presents the works of Edna Purviance and Charlie Chaplin on the big screen February 17. A speakeasy bar will be open for drinks and a period costume contest will take place as well.
STOMP – Since 1991, STOMP has been captivating audiences with pulse-pounding performances and magnificent rhythms created from any and everything but conventional musical instruments. Perfect for fans of all ages, this award-winning show comes to the Pioneer Center for the Performing Arts February 23-24.
The Nuclear Landscape – Between 1951 and 1992, the Nevada Test Site (now the Nevada National Security Site) saw the detonation of 928 nuclear devices. This legacy is explored by artists from around the world in "The Nuclear Landscape," a collection of works on display through January 6, 2019, at the Nevada Museum of Art.