Four Ways to Spend Time on the Truckee River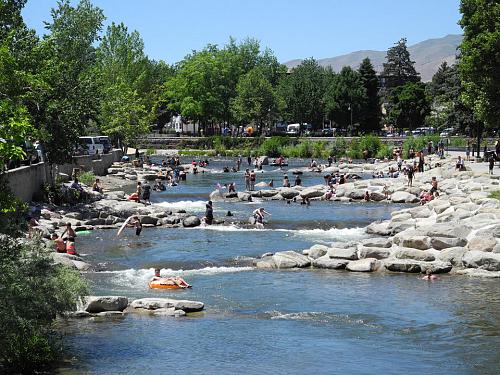 Reap the benefits of the heavy rain and snow the region received this winter season by enjoying the Truckee River. Whether kayaking, rafting, tubing, or swimming, the 121-mile waterway – starting in north Lake Tahoe, making its way through the Sierra Nevada Mountains into Reno, and ending at Pyramid Lake – will provide you with nonstop picturesque views during your entire adventure. There's no wrong way to spend time on the river, so grab your family or your buddies and don't forget the sunscreen!
Kayaking and Rafting
Located in downtown Reno, the Truckee River Whitewater Park is the ideal spot to paddle out in a kayak or as a group in a raft without the concern of major rapids. The man-made course is composed of eleven drop pools that range in difficulty over a half-mile stretch, and includes a racing course and other obstacles if you're in the mood to get your heart rate up.
For a more remote and intense excursion, areas like the Truckee Fall, Bronco and Jaws Rapids, and Staircase Rapid located between Truckee, Verdi, and Reno offer Class III to IV rapids, but are best left for experienced paddlers.
Some companies in the area that offer professionally guided kayak tours include: Tahoe Whitewater Tours (10015 Palisade Drive, Truckee) and Sierra Adventures (11 N. Sierra Street, Suite 101, Reno) with tours starting at $68 and $99, respectively. These are great options that take the stress out of planning your kayaking daytrip – including renting equipment, scouting the locations, transportation to and from the river, and, in some cases, packing snacks. Since 1973, Truckee River Rafting (55 W. Lake Blvd., Tahoe City) has been offering guided rafting trips, ensuring a carefree half-day ride down the river with rates starting at $33. Tributary Whitewater Tours (meeting location 10068 Hirschdale Road, Truckee) offers a half-day rafting trip for $69 that leads group from Truckee to Reno.
Tubing and Swimming
If appreciating the river in a relaxed, on-the-fly way is more your tempo, tubing and swimming are some ways locals favor soaking up vitamin D.
Floating on the river is part of becoming initiated as a Northern Nevadan. Even if you're a temporary resident, you're invited to join the floating community of tied inner-tubes steadily bobbing down the river. Before starting the descent downstream, you'll want to determine how much time you'd like to spend floating. For a three-hour journey, start at Mayberry Park (101 Woodland Ave., Reno) for a 5.5-mile ride, and head to Crissie Caughlin Park (3415 Idlewild Drive, Reno) for a 3-mile float that lasts about two hours. If you're looking to sneak in a shorter float, the Whitewater Park offers two channels that range in difficulty.
While you can float the river on almost any inflatable device, experienced floaters have found that river rocks make quick work of thinner plastic. If purchasing a sturdy inner tube is making you think twice about floating, Tahoe Whitewater Tours (400 Island Ave., Reno) offers the complete tubing experience with a shuttle ride, inner tube, helmets, life jackets, and a safety orientation for only $6 an hour.
Much like tubing, swimming allows you to easily spend time on the Truckee River without having to commit a majority of your day. The Whitewater Park is home to several different swimming areas within the half-mile distance and is perhaps the easiest swimming hole to find on the Truckee River. Other swimming spots are scattered across the Truckee River, but pinpointing specific spots can be difficult. The Truckee Meadows Water Authority's website recommends scouting areas first for rocks and current conditions because areas can vastly differ, and higher water levels make the rapids more intense.