The Sweet Stuff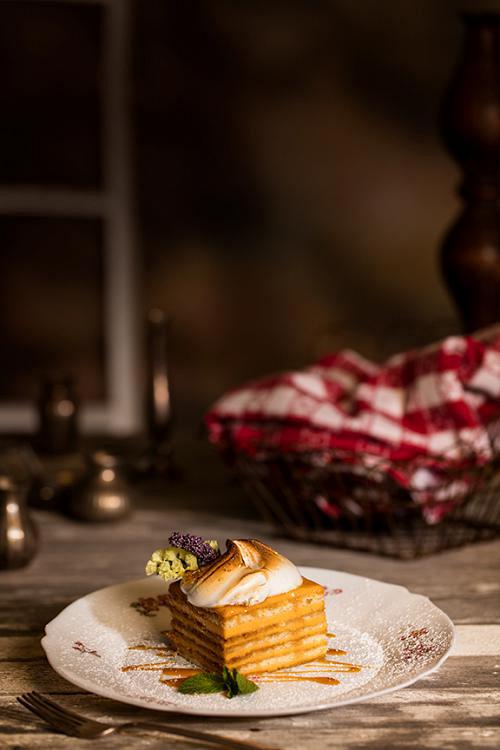 Taken from the French word desservir, meaning "to clear the table," there is no better description of the sweet course that arrives at the conclusion of a meal. First noted as being fed to the gods of ancient Mesopotamia and India, desserts originally were created with sweeteners like dried fruit and honey, before the use of sugarcane became an industry staple.
The ancient, mythic past is part of the future, as the Peppermill culinary team continues the tradition of dessert innovation, creating a vast selection of sweet treats unique to each dining outlet. Headed by Executive Chef Mark Lund and Executive Pastry Chef Cindy McCormack, the team works as a unit to create and offer the best desserts possible.
The resort's bakery is busy from morning until night, and it is where the highly skilled staff work in shifts to produce its delectable concoctions. The mornings begin with mixing and production, followed by afternoons of decorating sweet treats and the cutting, folding and filling of pastries into the late evening. In addition to traditional baked goods and breads, the bakery is also where custom wedding cakes, whimsical cupcakes and 120 gallons of fresh gelato are made daily.
With cooler months come fall harvests, bringing a plethora of sumptuous fruits and vegetables to the marketplace. Apples, pumpkins and butternut squash are autumn staples that are often incorporated into the Peppermill's desserts and pastries. The resort uses regional and sustainable products as often as possible, working in tandem with local farms to provide the freshest ingredients available in the fall dishes.
"We take seasonality into account, as well as how far we can stretch the season's offerings, when planning our fall dessert menus," said Chef Lund. "We want guests to experience something that is in season, ripe, local and delicious, and we need to know that the produce we choose to incorporate has the longevity our menus need."
Coinciding with the Peppermill's commitment to sustainability, the team is looking into the possibility of pairing with local hydroponic farms to have fresh produce grown year-round. This would allow seasonal elements, like winter berries, to be available at all times and help ensure product consistency.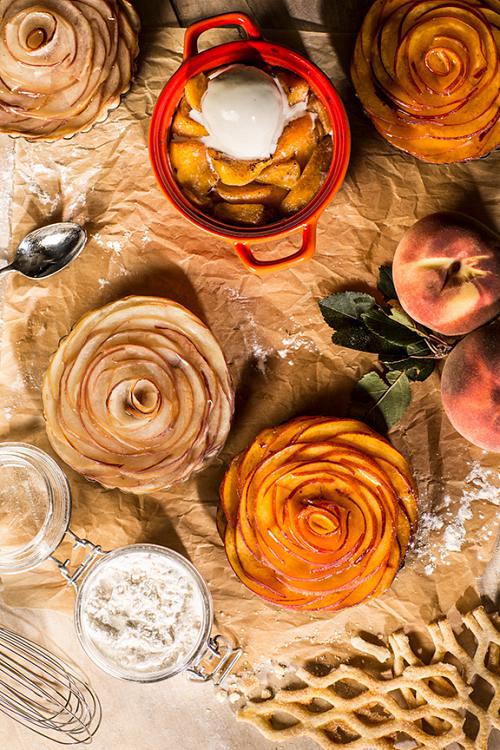 "An advantage to sourcing sustainable produce is that the money is staying in the community and helping local farms," said Chef Lund. "By developing these relationships and helping them grow their farms, the guests benefit from the quality of produce the farmers can provide."
Savory flavors and a variety of textures are incorporated into autumn desserts as well. More traditionally, the flavors follow the season. Indulgent dark chocolates bring warmth and intensity during fall and winter, while lighter milk chocolates delight during the warmer months. This fall, the new, handmade truffles reflect the long, dark nights with rich dark chocolate shells and are readily available at Biscotti's Café and Café Espresso. To further enhance a guest's experience, chefs have balanced multiple textures within the dish – such as crispiness, creaminess and chewiness – to maximize palatability, flavor and enjoyment.
Industry trends also come into play when planning a fall dessert menu at the resort. While most chefs always want to be ahead of the curve when it comes to the latest styles, a balance must be struck between innovative, experimental ideas and the dishes guests are requesting.
One of the more popular and approachable current trends is dehydration, which allows new flavors to be introduced to a dish in a more modest way. Charred jalapeños can add an unexpected spicy twist to a sweet dish once dehydrated and used as a garnish, with the atypical flavor combination of an intermezzo featuring cranberry sorbet, goat cheese and jalapeño being a treat for the senses. Or consider the surprise of cilantro finishing a plate instead of mint, as this playful touch is sure to liven up any fall dish. The art of experimentation is in finding the happy medium between what's popular, what's traditional and what's best for the business of delighting guests.
What the Peppermill team truly enjoys is reintroducing holiday classics with a twist, done by recreating dishes with different plating or introducing new flavor pairings. Pumpkin can be added to tiramisu, mixing a traditional dessert with fall elements that play on your taste buds. A cheesecake inversion, with an overall graham cracker coating, is a fun, new way to experience a time-tested dessert. These new concoctions may be a challenge to invent and successfully pull off, but these reimagined seasonal favorites allows the chefs' creativity to truly shine through on a plate.
The classics are not forgotten, though, and there is no shortage of apple pies and peach cobblers in the Peppermill's dining establishments. Rich chocolate cakes and creamy cheesecakes are always readily available for those who do not dare venture far into newer temptations. Though the sweet treats return year after year, the chefs continue to make small tweaks to fall favorites, ensuring the best-quality ingredients on the market are being used.
Whether you fancy apple pies bursting with cinnamon, pastries full of delicate creams or a creative, seasonal play on traditional favorites, the Peppermill is sure to deliver what your sweet tooth desires. Your imagination is the limit this autumn – just make sure you leave room for dessert.