Tee Time
Reno-Tahoe is the perfect destination for birdie and eagle lovers, but we're not talking about animal watching. Dozens of world-class golf courses are within 90 minutes of the Biggest Little City, meaning your next great game is just one stroke away. Hit the links – and a hole-in-one – at Montrêux, Edgewood, and Red Hawk.
Montrêux Golf & Country Club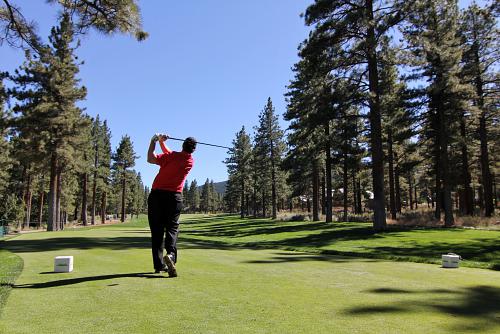 Nestled at the base of Mount Rose, Montrêux surrounds golfers with stunning wilderness and unmatched alpine views. While the club itself is only 20 minutes from downtown Reno, it evokes the feeling of a private mountain retreat worlds away from the hustle and bustle of everyday life. Your first 18 holes here won't be your last, as the allure of this exclusive retreat has kept golfers coming back since 1997.
Montrêux is home to the only Jack Nicklaus Signature Championship Course in Northern Nevada, a Par 72 beauty that Nicklaus himself considers one of his top five courses. Approximately 7,500 yards in expanse, highlights include seven lakes, three waterfalls, and numerous drops in elevation, as well as 70 bunkers with specialty white sand shipped in from Idaho. Memories will be made on the "Bear Trap," an equally picturesque and dramatic trio of holes six, seven, and eight, while the tee elevation on the 17th hole is an impressive 138 feet above the fairway. Montrêux's unparalleled quality has made it an official PGA Tour stop and home to the annual Barracuda Championship, where 132 of the best golfers from around the globe compete for a $3.3 million prize purse.
Amenities abound for golfers at Montrêux, including a practice facility with full-length ranges, holes, and chipping and putting greens. Club fittings, demos, and handicap services are also available. Between rounds of golf, Montrêux has tennis, hiking trails, a sports court for basketball and volleyball, and a wide variety of youth camps and activities as well.
Make Montrêux a must next time your clubs are calling you. Golfers of all skill levels flock to it for a reason.
Montrêux Golf & Country Club is located at 18077 Bordeaux Drive in Reno, and more information can be found at montreuxgolf.com.
Edgewood Tahoe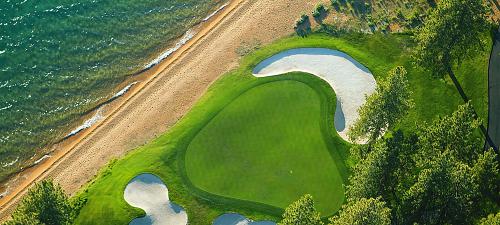 There's only one thing better than a day spent golfing, and that's a day spent golfing along the sapphire waters of Lake Tahoe. At Edgewood, golfers get up close and personal with this scenic shoreline, practically putting on the beach.
Long before it became a golf course, the land that now makes up Edgewood was once a stop on the Pony Express and Wells Fargo stagecoach lines, as well as a cattle ranch. In 1968, the course came to life, designed by George Fazio and maintained over the years by his nephew, Tom Fazio. Since then, Edgewood has been named one of "America's Top Golf Courses" by Golf Digest. The course features four sets of tees, ranging in length from 5,343 yards to 7,529 yards, allowing golfers of all skill levels to challenge themselves. With its proximity to Lake Tahoe, you can expect views of stately pines, rolling greens, and epic sunsets to further complement your game.
Celebrity golfers love playing at Edgewood, too. Every summer, sports and entertainment stars flock to the lodge for the American Century Celebrity Golf Tournament, which takes place July 10-15 this year. Past participants have included Justin Timberlake, Michael Jordan, Aaron Rodgers, and Ray Romano, with more than 80 celebrities scheduled to attend in 2018. Spectators can cheer them on from the greens or anchor small boats along the shoreline for on-the-water views.
Edgewood boasts that there's no better place to play the greatest game on Earth than its course – and they might be right. Even if your golf game goes south, the panoramas of Lake Tahoe and the Sierra Nevada will be more than worthwhile.
Edgewood Tahoe is located at 180 Lake Parkway in Stateline, Nevada, and more information can be found at edgewoodtahoe.com.
Red Hawk Golf & Resort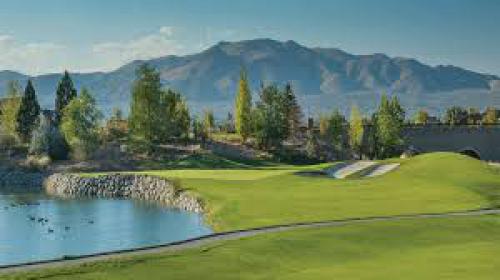 You don't have to leave the city to play championship courses. Venture to the heart of the Spanish Springs Valley and you'll find Red Hawk, offering two options for golf amongst sweeping desert views and mountain expanses.
It won't be an easy decision, but golfers have the choice of playing either The Lakes Course or The Hills Course at Red Hawk. Designed by Robert Trent Jones Jr., The Lakes Course is 7,410 yards of natural lakes, bubbling springs, and lofty cottonwoods. The scenery flows so seamlessly with the greens that it's almost as if a golf course was always part of the landscape. The Hills Course, designed by three-time U.S. Open champion Hale Irwin, is equally picturesque. At 7,106 yards, it's known for its small greens, deep bunkers, and dramatic changes in elevation. The land that is now Red Hawk was once a working ranch, so aspects of that history have been incorporated into The Hills Course as well, along with crystal-clear lakes for even more challenges. Hale's design is meant to bring every club out of the bag, so come prepared.
Before you ace your actual shots, brush up with Red Hawk's 18-hole putting green that's available for members and visitors. The on-site golf shop will also make sure you have the latest and greatest when it comes to clubs, gear, accessories, and more. If you prefer watching golf over playing it, stop for a bite at David's Grill, which offers an unbeatable view of the 18th hole in addition to five-star dining for breakfast, lunch, and dinner.
Two of the city's best golf courses are under one resort at Red Hawk, meaning you'll have to visit twice for the complete experience. We predict you'll be booking your next tee time before you finish the first round.
Red Hawk Golf & Resort is located at 6600 North Wingfield Parkway in Sparks, Nevada, and more information can be found at redhawkgolfandresort.com.