Reno Public Market Revolutionizes Neighborhood Food Scene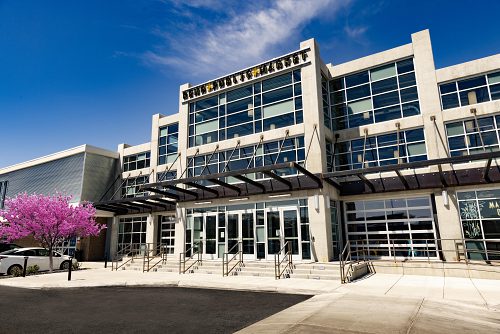 Reno Public Market, nestled in the heart of the city, is a vibrant destination that showcases the best of Reno's culinary and shopping experiences. The building that houses the market opened 60 years ago as Shoppers Square and is now a thriving marketplace that brings together local flavors, global influences, and a strong sense of community. Indulge in a diverse range of dining options, shop for unique products, participate in community events, and take in live music at Faye's, the center stage in the heart of the market.
The following are a select number of dining outlets and vendors that can be found at Reno Public Market.
The Culinary Experience
A La Parrilla
Get a taste of Latin American street food with a modern twist at A La Parrilla. From Colombian empanadas with ají to Mexican tacos and Guatemalan Churrasquitos, their menu offers a variety of sizzling, grilled dishes from across the region. Don't miss their signature chimichurri sauce, perfect for adding an extra burst of flavor to your meal.
Batch & Co
Indulge in delicious treats by Batch & Co, an artisan bakery serving up scrumptious baked goods made with organic ingredients. From cookies and brownies to mini pies and milkshakes, they have something for everyone, including paleo, vegan, and gluten-free options. Don't miss their signature ice cream sandwiches, perfect for an afternoon treat on a summer's day.
Bite Me
Bite Me brings fully loaded fries and smoked mac 'n' cheese with delicious fixings to Reno. Choose from options like Jubilee Fries, made with shrimp, andouille sausage, cheese sauce, shredded cheese, lemon-garlic aioli, green onions, bacon, and a dash of creole seasoning, or Dream Fries with steak, shrimp, cheese sauce, shredded cheese, lemon-garlic aioli, chimichurri aioli, green onions, and bacon. All choices can also be created on macaroni instead of fries. You can also build your own fries or mac meal and choose from several proteins, sauces, and add-ons.
Crepes & Craft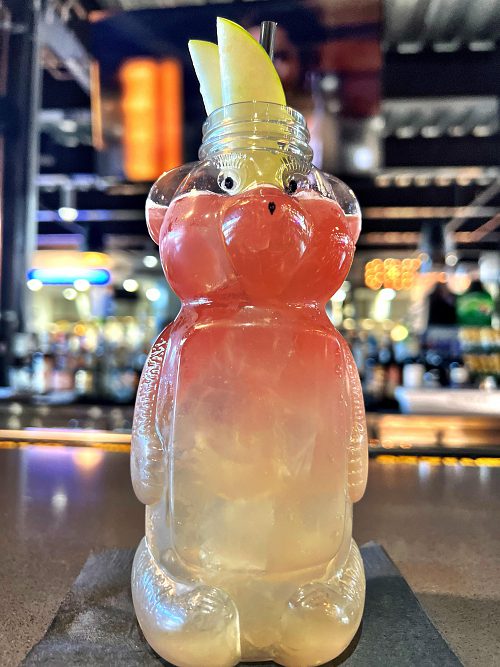 Satisfy your cravings with authentic, made-to-order crepes from Crepes & Craft. Sweet and savory options include the Herban Truffle, made with sautéed mushrooms, crumbled goat cheese, and crispy fried onions drizzled with truffle oil, or the Peanut Butter Cup featuring Nutella, chopped Reese's Peanut Butter cups, peanut butter, chopped peanuts, and chocolate syrup. They also offer small bites like French Beignets and Fried Green Tomatoes to accompany your meal. Pair your crepe with a refreshing craft beer for the perfect dining experience.
FiftyFifty Brewing (coming soon)
FiftyFifty Brewing is a renowned craft brewery, offering a diverse selection of beers to suit any palate. From hoppy IPAs to smooth porters, you're sure to find a brew you'll love. Be sure to try their award-winning Eclipse Barrel-Aged Imperial Stout, a must-sample for craft beer enthusiasts.
Honey Bar
Enjoy cocktails with big flavor at Honey Bar, a unique bar in the heart of the Food Hall. Try their signature Honey Bear cocktail made with apple whiskey, fresh lemon juice, simple syrup, and cranberry, served in a honey bear glass. Honey Bar also hosts an hour of Beginner Vinyasa Flow yoga throughout the month. Stay after class and treat yourself to a complimentary cocktail.
Main Vein Coffee Co.
Main Vein Coffee Co. is a woman-owned, gothic coffee spot, offering a wide range of unique coffees and teas. Grab a Hypnosis, with White Chocolate and Macadamia Nut, or shake things up with an Italian soda. Don't forget to try their Butter Waffles, a light and fluffy waffle that tastes like a butter cookie, topped with delicious options like Nutella, strawberries, marshmallow cream, and powdered sugar.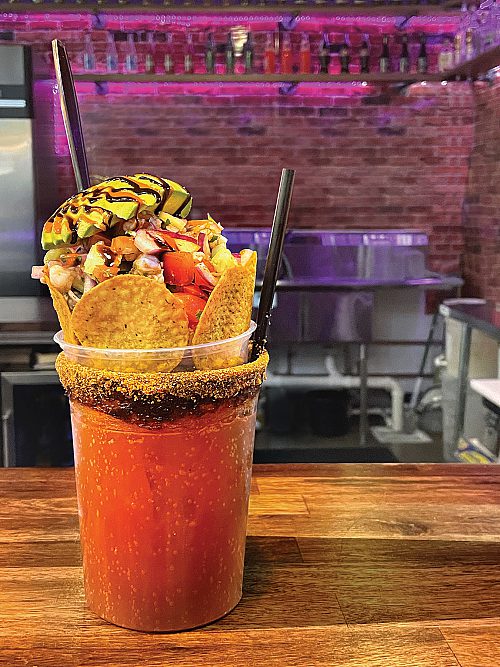 Miches Vatos
Savor the flavors of authentic Mexican seafood and micheladas made from scratch using only the finest ingredients at Miches Vatos. Indulge in the Michelada Botaneran made with your choice of beer and topped with shrimp ceviche and avocado.
Morning Glory
Start your day off right or enjoy a midday pick-me-up with fresh and healthy options from Morning Glory. Their menu features raw juices, smoothies, acai bowls, and wellness shots made with just the good stuff and none of the extras.
V's Churro Bar
Satisfy your sweet tooth with crispy, golden churros drizzled with a variety of toppings at V's Churro Bar. Choose from a variety of dipping sauces such as chocolate, caramel, and strawberry. Enjoy crispy churros with all the toppings to make the perfect sundae, funnel cakes with all the fixings, churro "nachos" with sweet ice cream and strawberries, mini munchies like deep-fried Oreos and Gansito, and much more.
Wok & Roll
Experience the best of two worlds with innovative fusion dishes from Wok & Roll. Try their Fried Pork Belly Pineapple Bowl or deep-fried Cheeseburger Rolls topped with ketchup, mustard, lettuce, and pickles.
The Shopping Experience
Far Out
Find one-of-a-kind items at Far Out, a store created by the women at Coalition Snow. They offer a curated selection of modern outdoor and lifestyle goods, plus hard-to-find items from their global travels.
Zawadisha
Shop for sophisticated, handmade goods from Africa at Zawadisha, a woman-owned and operated business. Not only will you find unique and beautiful items for yourself and your home, but 100% of sales benefit their micro-lending program for women in Kenya. Browse their selection of ethically made jewelry, textiles, and home goods.
Wyld Market Collective
Wyld Market Collective is a carefully curated collection of local and handmade goods, showcasing the best of Reno's creative community. From artisanal candles and skincare products to handcrafted jewelry and clothing, Wyld Market Collective offers a diverse range of unique items that make perfect gifts or additions to your own collection.
Junkee Clothing Exchange (coming soon)
Get ready for a unique shopping experience as a funky recycled clothing, antique, and furniture store opens its doors to 13,000 square feet of retail space this October. Currently located in Midtown, Junkee Clothing Exchange is a must-stop for out-of-town and international Burners heading to the Black Rock Desert each year. The friendly staff members are always available to outfit you with Playa costumes and creative frocks for themed parties. Browse through their collection of recycled clothing, antiques, and furniture to find one-of-a-kind items that match your style and personality.
Reno Public Market offers an unforgettable experience for locals and visitors alike. Don't miss out on the opportunity to discover some of Reno's best culinary and shopping experiences.