Eating Like a Local: Midtown
Welcome to MidTown, a flourishing up-and-coming district in the heart of Reno. A neighborhood well-loved for decades, local business and property owners began rallying around the goal of improving the area for everyone who lives, visits and works in the community. While the district hasn't always been the home turf of the Reno hipster, the revitalizations have truly transformed MidTown and filled the neighborhood with previously missing niches.
Located between Liberty Street and Plumb Lane to the north and south, and Plumas Street and Holcomb Avenue to the west and east, MidTown begins where Downtown Reno ends. The district is home to a variety of locally owned shops like Happy Happy Joy Joy (a store chock-full of little and big kid toys, gifts and art books), and The Neon Dragonfly (an eclectic boutique featuring home décor, specialty lamps, clothing, accessories and a craft workshop in the back). Lifestyle and fitness options abound as well, including MidTown Community Yoga, Black Hole Body Piercing and Double Edge Fitness. You'll need to put aside multiple days to explore all the unique neighborhood businesses.
MidTown is best known for its dining options – where restaurant owners want to be and foodies want to eat. Offering a wide variety of cuisines for every day of the week, the cafés and eateries here are sure to satisfy whatever craving you might have. Places like Centro Bar & Restaurant, MidTown Eats and Lulou's have raised the standard of dining in the neighborhood, and continuously bring crowds of people to the area with their creative dishes.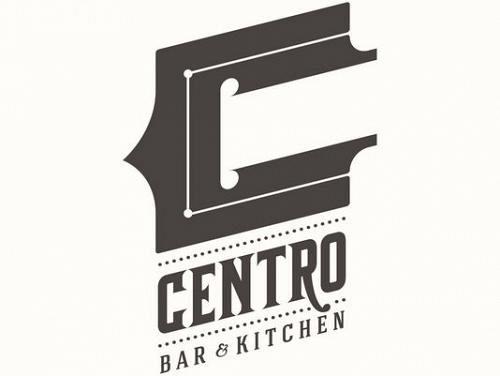 Centro Bar & Restaurant

Great for: lunch, dinner, drinks
One glance at the food and cocktail menus at Centro Bar & Restaurant and you'll quickly realize that choosing between the seasonal dishes and drinks is not going to be easy. Using locally sourced goods to bring Reno fresh quality food, the tapas-style small plates encourage the sharing and sampling of different flavor combinations. The wine menu features both old and new world wines, and the cocktail selection is routinely updated with new choices. Visit with a friend and delight in the Coconut Mai Tai, a drink for two that combines cachaça rum, scotch, orgeat, lemon, banana, cranberry, pineapple and toasted coconut.
The lunch and dinner menus inspire the diner to be adventurous, but some dishes that should not be missed are the Filthy Fries, Crispy Brussels Sprouts and Sticky Thai Ribs. These plates are menu mainstays no matter the season, said Centro executive chef Zachary Mason.
At the foundation of the Filthy Fries are crispy potato wedges that serve as the perfect vehicle for the beer cheese sauce, cotija cheese, short rib house bacon, cherry peppers and balsamic gremolata that top them off. All these flavors hit the sweet, spicy, acidic and salty notes you want in a bite. If you prefer something lighter, let the Crispy Brussels Sprouts hit the spot, with lavender bacon, vermouth caramelized onions and citrus finishing the dish.
Centro's ribs come with two flavor options – Sticky Thai or Asian BBQ – and while both are delicious, the Sticky Thai really packs a flavor explosion with creamy peanut puree, pickled pear and sesame. Pair this with an alcoholic Thai Tea, made with Thai tea-infused bourbon, coconut cream, lemon and turbinado sugar, and you will be set for a five-star experience.
Centro Bar & Restaurant is located at 236 California Avenue in Reno, and open Sunday through Thursday from 11 a.m. to 10 p.m. and Friday and Saturday from 11 a.m. to 11 p.m.
Midtown Eats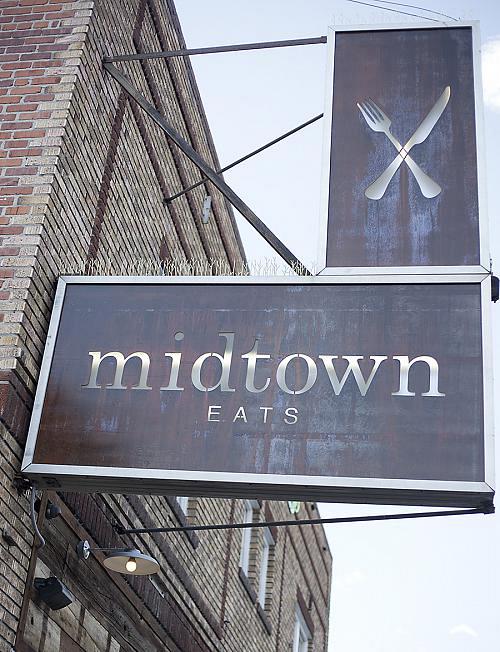 Great for: lunch, dinner, drinks, Sunday brunch
Minimalistic in décor, but not in flavor, Midtown Eats is a local favorite, making it no surprise that the restaurant is usually packed during peak hours. However, this eatery that bills itself as a modern take on ageless taste is well worth the wait. Whether dining during lunch or dinner, the artisanal burgers are always available, with meat options including lamb, bison and elk for the more adventurous eater. If you are looking to share, try the Snacks selections of Beer Battered Cauliflower, Sweet & Smokey Popcorn with a housemade bourbon maple syrup or Crispy Kalettes, a combination of kale and Brussels sprouts.
Brunch is a cannot-miss meal at Midtown Eats and is served every Sunday from 10 a.m. to 3 p.m. Three Benedict choices await – Midtown, Steak and Veggie – and the yuzu hollandaise that accompanies the first two dishes is creamy and flavorful. Those with a sweet tooth might want to order the Brioche French Toast, paired wonderfully with a housemade bourbon syrup and seasonal fruit to lighten the dish. Drinks often accompany a weekend brunch, but this restaurant puts their unique spin on the libations by offering fizzes, which must be ordered to be truly understood and enjoyed. With names like Black Gunpowder, Henry C. Ramos and Carmellow, the whimsical concoctions are sure to grab your attention.
Midtown Eats is located at 719 S. Virginia Street in Reno, and open Monday through Thursday from 11 a.m. to 9 p.m., Friday and Saturday from 11 a.m. to 10 p.m., Sunday Brunch from 10 a.m. to 3 p.m. and Sunday dinner from 5 p.m. to 9 p.m.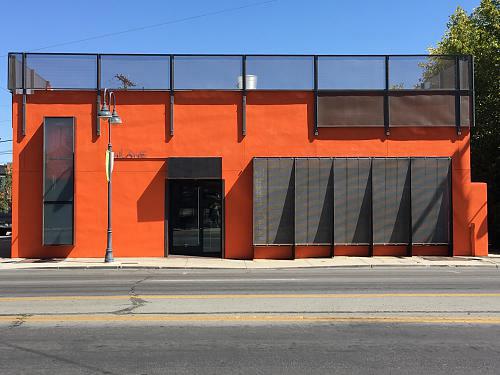 LuLou's
Great for: dinner
Whether you're celebrating a special occasion or just need a fancy night on the town, LuLou's is the place to go. One of Reno's most exquisite restaurants for years, this MidTown destination has many people comparing it to the fine dining scene in San Francisco. Word of mouth may be responsible for this hidden gem gaining such popularity, as the restaurant has no official website or social media presence – only that which was created by satisfied diners. As such, you will feel like a true MidTown insider after dining here.
The menu showcases proteins and preparations that stay true to a traditional high-end steakhouse. Take your pick from standard cuts of meat like ribeyes and filets, or tempt your taste buds with options that can include yellowfin tuna, quail, duck, baby octopus and foie gras. The dishes are ever-changing, but always feature beautifully plated and innovative choices that play with international flavors. Ingredients are often listed in interesting ways as well – like pork floss and burnt bread – that intrigue your expectations on multiple levels.
Let the mystery of LuLou's pique your curiosity, and make your reservations for a once-in-a-lifetime dining experience.
Lulou's Restaurant is located at 1470 S. Virginia Street in Reno, and open Tuesday through Saturday from 5 p.m. to 8:30 p.m.