Scoop Like a Local – Ice Cream Shops
The Biggest Little City has a major sweet tooth, with cravings that can only be satisfied by local artisans whipping up everything from doughnuts and cupcakes to chocolates and pastries. However, nothing complements a hot summer day or warm spring night like a frosty scoop (or two) of ice cream. Chill out with a creamy treat from Icecycle Creamery or one of Peppermill Reno's gelato cafes.
Icecycle Creamery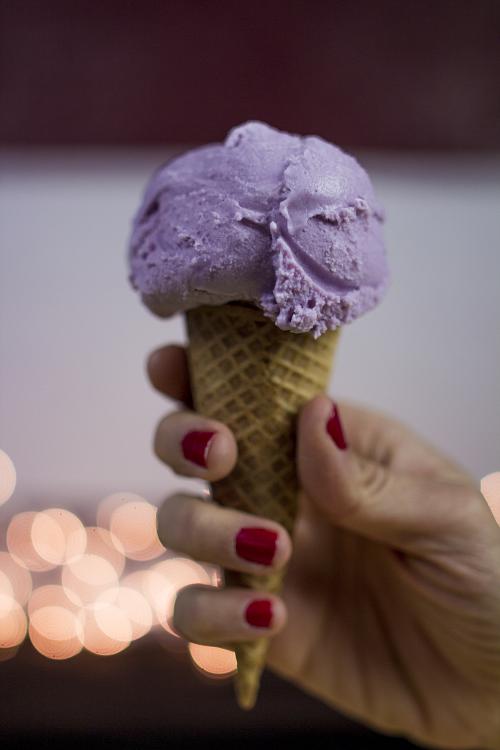 After three years of perfecting recipes in their home kitchen, Jeremy and Leilani DeMarzo decided it was time to take their homegrown hobby to the streets – literally. Icecycle Creamery came to life in June 2014 as a human-powered tricycle cart, popping up at events all over town to the delight of many ice cream aficionados. While the cart still makes a special appearance every now and then, Icecycle has since evolved into two storefronts serving dozens of flavors daily.
Icecycle prides itself on handcrafting ice cream from scratch, following the basic recipe of milk, cream, sugar, agar, and the elements needed to create each particular flavor. Because the shop doesn't typically use eggs, the texture is icier and less custardy but still solidly creamy.
What really sets Icecycle apart are the flavors the shop produces, rotating through 16 small-batch choices at the Lakeside Drive location and eight at the downtown Reno shop. More than 45 unique recipes are currently part of the repertoire, including dairy-free and sorbet options, and local ingredients are used as often as possible. Classics like vanilla and chocolate are readily available, as are Icecycle staples like Home Means Nevada – sage ice cream with pine nuts – and Cookie Roulette, a combination of sweet cream ice cream with cookies from the space-sharing Pedalers Deli. Expand your palate further with scoops of Honey Butter Cornbread, Salted Chocolate Lavender, and Sweet Potato Casserole, or truly take a walk on the wild side with Blue Cheese with Balsamic Swirl, Fresh Basil, and Carolina's BBQ.
While Icecycle's more adventurous ice creams might sound off-putting at first, the DeMarzos and team have mastered the art of turning unexpected ingredients into masterful scoops of one-of-a-kind flavors. Samples are welcome at both shops, so dig in.
Icecycle Creamery is located at 6147 Lakeside Drive, Suite 102, in Reno, and is open Monday through Saturday from 11 a.m. to 8 p.m. A second Icecycle Creamery shop is located at 148 West Street in downtown Reno, and is open Wednesday and Thursday from 2 p.m. to 8 p.m., Friday from 2 p.m. to 10 p.m., Saturday from noon to 10 p.m., and Sunday from noon to 8 p.m.
Peppermill Reno's Gelato
At a five-star resort like Peppermill Reno, there's no shortage of tempting confections waiting to go home with you. Bakery cases may be filled with eclairs, macarons, tarts, and cakes, but it's the colorful, luscious gelato that commands the most attention.
While "gelato" is Italian for "ice cream," the two dessert options are not exactly the same. The custard base for gelato uses more milk than cream and fewer (if any) eggs, and is churned at a much slower rate that leaves the gelato with a denser texture. Gelato is traditionally served at a warmer temperature than ice cream as well, which contributes to its softer feel.
Peppermill Reno has been making its own gelato since 2008, using the best ingredients available and the most modern technologies and processes. It all starts in the resort's state-of-the-art commissary kitchen, where large amounts of three base recipes are made and portioned into smaller batches. Flavor components are then blended by hand into each mixture before gelato machines churn and freeze the liquid to the perfect consistency. Once in serving containers, the gelato is blast frozen to lock in peak flavor and optimal texture until it's ready for guests to enjoy.
On average, 80-120 gallons of gelato and sorbet are produced daily by Peppermill Reno, in 45 different flavors ranging from white chocolate and strawberry cheesecake to limoncello and Mr. Nico (similar to a Snickers bar). As part of the same ownership group, the resort also supplies Western Village Inn & Casino with 60-80 gallons of gelato every week.
Once you're finished reading this article, try flavors galore after a meal at Island Buffet, or see how gelato is turned into fine dining desserts at Bimini Steakhouse or Romanza. RSVP now for a summer getaway, when poolside treats like chocolate-covered gelato pops, jumbo chocolate chip cookie gelato sandwiches, and sorbet push pops will be waiting for you.
Peppermill Reno's gelato is sold by the scoop and pint at Café Espresso, open 24 hours a day, and Biscotti's Café, open Sunday through Thursday from 7 a.m. to 9:30 p.m. and Friday and Saturday from 7 a.m. to 11 p.m.