Historical Reno Dining
Reno's restaurant history is an exciting and diverse one. It's a melting pot of great cultures and traditions, with some amazing cultural food ranging from authentic Italian and Basque to Mexican dishes that continue to inspire the area's heritage. Discover some of the city's most well-known and long-standing eateries.
Coney Island Bar
An original Reno community restaurant and bar that opened its doors in the early 1920s, the Coney Island Bar has stood against the ever-changing Reno atmosphere without much change itself. It has been in operation though three generations of the Galletti family, starting with the original owner, Ralph Galletti, a native of Genoa, Italy.
The Coney Island Bar began its humble beginnings as a tamale factory, and in 1926, transformed into the Coney Island Tamale Factory, where the Galletti family sold tamales from a small service counter.
In 1936, the family built their brick and mortar location in Sparks, and a local restaurant legend was born. In addition to the growth of their restaurant, the menu expanded to include raviolis, enchiladas and chili con carne.
After World War II and returning from service, Ralph Galletti's son, John, added a bar to the restaurant and changed the name to the Coney Island Cocktail Bar & Restaurant. Today, John's children run the family business, and in 2007, the Coney Island Bar was placed on the National Register of Historic Places.
The Coney Island Bar serves lunch daily and offers a special prix fix Wednesday dinner menu. The restaurant is located at 2644 Prater Way in Sparks.
Louis' Basque Corner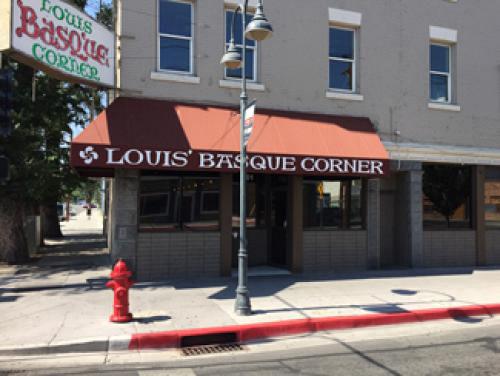 Louis' Basque Corner has been a part of the city of Reno for more than 50 years, when a Basque couple by the name of Louis and Lorraine Erreguible, purchased a boarding house, turned hotel turned restaurant in 1967. Staying true to their roots, the Erreguibles decided to dedicate their menu to traditional Basque cuisine.
Instantly popular among locals and visitors alike, Louis' Basque Corner quickly gained a national reputation for excellent and traditional Basque cuisine served in native Basque family-style seating.
In 2011, the Erreguibles sold Louis' Basque Corner, but the tradition lives on with the new owners maintaining the original traditions and still solely serves Basque cuisine and favorites including sweetbreads, oxtail, tongue, tripe and the famous Basque-American drink, the Picon Punch.
Louis' Basque Corner is open daily with hours varying. They are located at 301 East 4th Street, Reno, on the corner of Evans and East 4th Street. For a full list of their menu and for general information, visit louisbasquecorner.com. Reservations are recommended.
Miguel's Restaurant
Born in New Mexico in 1918, Miguel Ribera is remembered by local Reno residents as much for his great Mexican-style cooking as he is for his commitment to helping local Hispanic youth. Throughout his life, Ribera frequently volunteered at the Reno YMCA, where he taught cooking classes to eager students, hoping to start them on a path of a shared passion in the culinary arts.
In 1959, Ribera became a Reno restaurateur when he purchased the local Casa de Flores, a Spanish-influenced eatery. Ribera changed the name of the restaurant to Casa de Amor, converted the menu to Mexican cuisine and provided scholarships to many of his employees.
Years later, and with one final name change along the way, Miguel's Restaurant is still thriving with the same authentic Mexican flair as before. Today, the Miguel Ribera Park and Miguel Ribera Family Resource Center at Pine Middle School are both named after him in dedication to his community involvement and service.
Miguel's Restaurant is located at 1415 South Virginia Street, Reno. For a full list of their menu, hours, and general information, visit miguelsmexicanrestaurantreno.com.
With research support from:
Reno Historical, renohistorical.org