Himalayan Retreat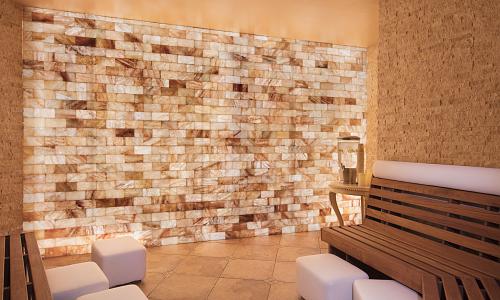 Give yourself the gift of wellness this winter. Peppermill's Spa Toscana is introducing new facial treatments and a Himalayan salt retreat that will be a delight for the senses.
Halotherapy, or salt therapy, has been touted for hundreds of years by ancient healers who have recommended it for everything from increased respiratory health to treating skin conditions. Modern therapy first came to light in the mid-1800s when Polish health official Felix Bochkovsky made the observation that salt mine workers rarely suffered from colds, respiratory ailments, or lung diseases. Bochkovsky attributed this to the salt aerosol being inhaled on a daily basis. From there, salt therapy became a frequently used technique in many Eastern European countries, and is still relatively new to the U.S.
Spa Toscana's Himalayan Retreat provides a 170-square-foot sanctuary to enjoy before or after your spa treatment. Created with relaxation in mind, the retreat features Himalayan pink sea salts and soothing, dimly lit walls to produce the perfect experience. Similar to a meditation session, the therapy works best when you breathe deeply while listening to calming music and focusing on the natural beauty of the salt crystals. The nutrients found in salt are essential for your skin, immune system, circulation, and body to replenish moisture and offset the harmful toxins we naturally ingest.
HydraFacials are also new to Spa Toscana. HydraFacial is the only procedure that combines cleansing, exfoliation, extraction, hydration, and antioxidant protection simultaneously, resulting in clearer, more beautiful skin with no discomfort or downtime. The treatment is soothing, moisturizing, non-invasive, and non-irritating. The HydraFacial treatment improves the appearance of fine lines, wrinkles, congested and enlarged pores, oily or acne-prone skin, hyperpigmentation, and brown spots, and is suitable for most skin types. Best of all, it offers instant, noticeable results with no downtime or irritation, and the results may last five to seven days.
HyrdaFacials differ from regular facial treatments in that the spa technician uses a wand/hand piece that can perform all functions of a facial including cleansing, exfoliation, extractions, moisturizing, and LED therapy. This process is both preventive and corrective.
Choose from a variety of HydraFacial options. The 50-minute treatment gives you the benefits of a deep exfoliation without the aggression by using hydradermabrasion, a gentle and effective way to exfoliate without the use of hard crystals. Perfect for reducing the appearance of fine lines, uneven skin tone, congestion, and dehydrated skin, you'll leave looking and feeling refreshed.
For a year-round moisturizing solution, the 80-minute Exceptional HydraFacial is recommended anytime skin moisture is depleted, particularly during the harsh winter months. This treatment uses LED technology to maximize the benefits of specialty serums, including the Brightalive Booster, a super serum designed to brighten skin tone and lessen the appearance of discoloration for an instantly gratifying glow.
The Hydra-Fusion is a 100-minute treatment that combines both Spa Toscana's top skincare lines to create a luxurious 2-in-1 facial experience. The treatment begins with the exclusive HydraFacial technology that effectively cleanses and exfoliates by extracting and hydrating the skin. Next, super serums containing vital nutrients like antioxidants, peptides, and hyaluronic acid are applied to soften and soothe. This is the perfect preparation to promote maximum infusion and benefits of the Intraceuticals Oxygen products that will reduce the appearance of fine lines and pores while revitalizing and balancing your complexion while being refreshed and hydrated.