Explore the Outdoors – Hiking Trails in Reno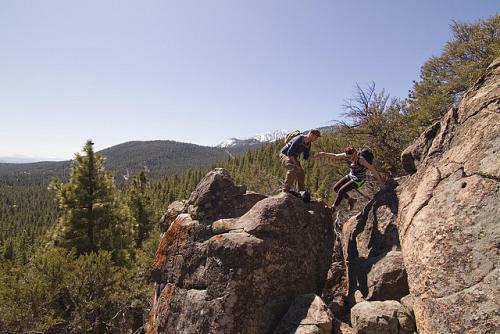 The beauty of Northern Nevada was meant to be seen and explored. If you are looking to hike, mountain bike, trail run or simply get outside and enjoy the fresh air, you can do it all in Reno and Tahoe. See for yourself why our stunning landscapes inspire so many pictures and portraits of this area.
Whether at the Sparks Marina, along the Truckee River in downtown Reno or among the pines on the eastern slopes of the Sierra Nevada, this is a region where the air is healthy, the scenery is spectacular and every path leads to a different adventure. Check out our trail guide for an overview of popular paths and hikes in the area, and discover a new favorite.
Hunter Creek Trail
Length: 5.9 miles, roundtrip
Difficulty: Moderate
Location: Michael D. Thompson Trailhead parking lot on Woodchuck Circle, Reno
Hunter Creek Trail is one of the most popular options for area hikers, namely for the waterfall you'll find at the turnaround point of the trail. Hunter Falls is an estimated 40-50 feet high with a small pool at the bottom, allowing visitors an opportunity to relax and enjoy the beauty of their surroundings. The trail itself walks you along Hunter Creek and can require the crossing of small streams by stepping stones, footbridges or quick walks through the water. If traveling with family or dogs, the Hunter Creek Trail is rated both dog and child friendly, so pack a lunch and make an afternoon of it.
Galena Creek Trail System
Length: Ranges, from 0.4 miles to 9.2 miles
Difficulty: Easy to Strenuous
Location: 18250 Mount Rose Highway, Reno
If you are looking for a wide range of trail options, the Galena Creek Visitor Center provides access to seven different trails just on the edge of the city. Staff and volunteers are available to answer any questions, and they offer nature-based programs for all ages if not everyone in the group wants to hike. The easiest paths with the least elevation gain are loops less than half a mile long, one of which is paved and handicapped accessible. Others may enjoy the Galena Creek Nature Trail, which is a mile-long loop that features 18 signposts corresponding to brochure information about the ecology of the area. For the most experienced hikers, plan a day to tackle Jones-White Creek Loop Trail, a 9.2-mile adventure that gains 2,000 feet of elevation over the course of the trip. Dogs lover rejoice – leashed dogs can accompany you on all of the Galena Creek trails.
Huffaker Park Lookout Trail
Length: 0.75 miles or a 1.6-mile loop
Difficulty: Easy
Location: 1160 E. Huffaker Lane, Reno
Looking for grand views with minimal effort? Consider the Huffaker Park Lookout Trail, another popular option for hikers, joggers, and dog walkers. Only climbing approximately 200 feet in elevation, you can choose between a .75-mile path or a 1.6-mile loop depending on your preference. Picnic tables and benches are placed along the paths if you wish to bring snacks or take a break. At the top, you'll find panoramic views of downtown Reno and the Truckee Meadows. Be sure to bring a camera for this suburban adventure.
Tahoe Meadows
Length: 1.3-mile loop
Difficulty: Easy
Location: 22222 Mount Rose Highway (parking area and trailhead at the crest of Mt. Rose Highway, between Reno and Lake Tahoe)
Surrounded by the beauty of the Humboldt-Toiyabe National Forest, the Tahoe Meadows trail is not to be missed. The 1.3-mile loop is well maintained and marked, and its ease makes it a great option for families with young children or those looking for less strenuous activity. At an elevation of 8,870 feet, compared to downtown Reno at 4,505 feet, you are guaranteed remarkable views in every direction. Take in massive Douglas fir trees, lush meadows and streams and various wildlife while traversing Tahoe Meadows.
Sparks Marina
Length: 2-mile loop
Difficulty: Easy
Location: 300 Howard Drive, Sparks
If you want a hike that is not a hike at all, the Sparks Marina may be the perfect option for you. A two-mile paved loop circles a large body of water where people kayak, paddleboard, fish, and swim. It features a playground for children, a fenced dog park with water access, and beach volleyball nets. This path runs alongside The Outlets at Sparks shopping mall for those who may want to shop or dine, but it is not lacking for wildlife or scenery. Squirrels, ducks, birds and even a wild rabbit or two will catch your eye, as will the houses that line part of the path. With something for everyone, the Sparks Marina is a hidden gem.
Photo: VisitRenoTahoe.com