Haunted Nevada
More than 100 ghost towns are scattered throughout Nevada, relics of the state's boom-and-bust mining history that now stand as historical sites, abandoned buildings, and barren lands. While the number of former Silver State settlements is well documented, what remains unknown is just how many ghosts still reside in the communities they – and we – call home. Explore Northern Nevada's most haunted locales and decide for yourself whether spirits walk among us.
Carson City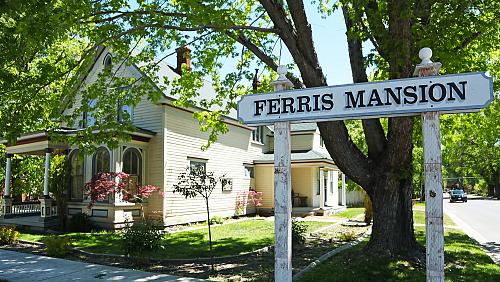 Founded in 1858 as the state's de facto capital, Carson City is steeped in Victorian Era history. Relive this moment in time on the Carson City Ghost Walk, which takes guests on evening tours of the city's longest-standing and most paranormally active mansions. Madame Curry, the fictional widow of actual Carson City founder Abraham Curry, has guided the experience for 26 seasons now, enchanting attendees with tales of lingering spirits, centuries-old gossip, and spooky occurrences.
The 90-minute ticketed walk begins as dusk turns to darkness and includes numerous stops along the way. One is the Bliss Mansion, a 3-story, 8,500-square-foot dream home completed in 1879 by millionaire Duane L. Bliss. Built on top of a cemetery that was exhumed and relocated, it's believed the spirits of these disturbed pioneers still roam the grounds, as does Bliss himself. Some say he keeps an eye on the people staying in the converted bed and breakfast, moving curtains or standing watch from the living room or front yard to make his presence felt. The Ferris Mansion, known as the childhood residence of Ferris wheel inventor George Ferris, Jr., is also rumored to be patrolled by an unsettling visitor. When the Ferris family hosted a lavish wedding for George Jr.'s sister, Mary, several guests inquired about the second bride they saw and spoke with in the backyard. It was later discovered that the home had previously hosted only one wedding, where a heartbroken bride was left at the altar.
For tickets and information, visit carsoncityghostwalk.com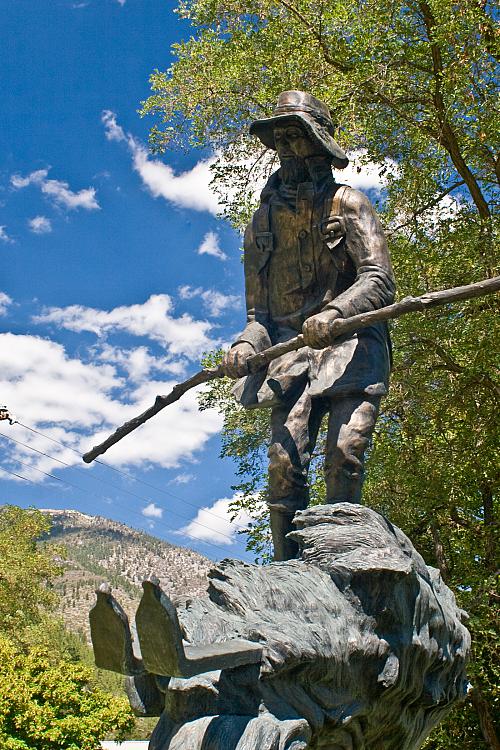 Genoa
Genoa is Nevada's oldest settlement, founded in 1851 as a permanent trading post. Approximately 250 people currently live in the small town located less than an hour from Reno – 251 if you include the ghost of Snowshoe Thompson.
For 20 years, John "Snowshoe" Thompson delivered mail, supplies, and news between Placerville, Calif., and Genoa, repeatedly crossing the Sierra Nevada mountain range throughout the winter. To do this, the Norwegian immigrant fashioned what now resemble modern-day skis, allowing him to make the roundtrip in just five days. However, he was never paid by the government for his services, as the U.S. Post Office said Thompson had never signed a contract with them. Now, Snowshoe is buried in Genoa's graveyard, his tomb marked simply with the phrase "Gone but not forgotten." A statue of the famous "Mailman of the Sierra" can also be found in Genoa's Mormon Station State Historic Park.
You'll learn this and more on the Genoa Historic Ghost Tour, a 2-mile guided walk that takes attendees to storied locations like the Genoa Bar and Saloon, The Dake House, The Hanging Tree, and the Genoa Courthouse. A personal tour of the cemetery is also included, where spirits of Pony Express riders, Mormon settlers, and early residents can be found.
For tickets and information, visit Genoa Historic Ghost Tours.
Virginia City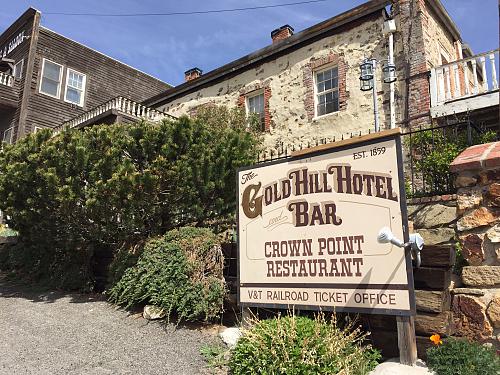 Virginia City is arguably the most well-known of Nevada's historic mining towns. While it currently has an estimated population of fewer than 900 residents, that number soared to 25,000 when it first sprang up as a Comstock Lode boomtown in 1859. What has kept Virginia City a bustling hub of activity since silver was discovered in its mountains? In addition to seasonal events and Wild West charm, the city is almost undeniably inhabited by ghosts – and lots of them.
There are few buildings in Virginia City that remain unbothered by a paranormal presence, so much so that Travel Channel's "Ghost Adventures" and SYFY's "Ghost Hunters" have both filmed multiple episodes throughout the city. Anyone seeking spirits must visit the Silver Queen Hotel, and those who wish to have a personal encounter will want to reserve Room 11. Rosie, a prostitute who conducted business inside the Silver Queen, is said to have committed suicide in the bathtub of this room, and many believe she never left. Guests report hearing loud footsteps (despite carpeted hallways), rattling doorknobs, taps on doors, and even the sight of Rosie herself at the top of a long staircase. Rosie may not be alone, though, as the Silver Queen wedding chapel was once used as a makeshift morgue when the ground was too frozen to bury the dead.
Down the street at the Gold Hill Hotel, you'll find the ghosts of many deceased miners. In 1869, a massive fire ignited 800 feet down inside the Yellow Jacket Mine, which was behind the Gold Hill Hotel. Structures collapsed and poisonous gasses flooded adjacent mines, killing anywhere from 35 to 47 workers. Now, experts often find spirits inside the hotel's Great Room, which was the original location of the bar that miners enjoyed patronizing after work in the 1800s. A male entity named "William," thought to be one of the Yellow Jacket miners, has claimed Gold Hill Hotel's Room 5 as his own. A strong tobacco smell often greets guests entering the room, and the door frequently locks and unlocks on its own. If that's not enough, others have claimed to hear the sound of children giggling in the hallways, and it's rumored a Wild West gunslinger either hanged himself or was lynched on the third floor.
If you'd prefer not to explore Virginia City's haunted history alone, take a guided tour with Bats in the Belfry. For tickets and information, visit virginiacityghosttours.com.
Elko
Elko may be a four-hour drive from the Biggest Little City, but it's the perfect hub for ghost town exploration. The Elko Convention & Visitors Authority has made it easier for adventurers, too, providing maps, road conditions, and services available on the way to a handful of destinations.
Travel 8 miles outside of Elko and you'll find remnants of the California Trail, the historic path traversed by more than 200,000 people migrating to the Golden State in the mid-1800s. Historical markers highlight significant moments and places, and wagon ruts can still be seen along parts of the trail. If you want to see the barren solitude that Pony Express riders and Donner Party travelers faced, go 65 miles from Elko to the Ruby Lake National Wildlife Refuge, where a portion of the Pony Express Overland Mail Service Trail remains.
Tuscarora, 44 miles from Elko, is billed as a living ghost town. What once peaked as a silver boomtown in the 1880s is now home to several world-renowned artists, including potter Dennis Parks and his Tuscarora Pottery School. Naturally, no ghost town is complete without a historic cemetery, and Tuscarora's is not to be missed.
You can also visit the crumbling remains of Metropolis, a city built to become the center of a farming community that was doomed from the start. The Pacific Reclamation Company bought 40,000 acres of land in 1910, and after erecting a dam on Bishop Creek, Metropolis was heavily promoted as the burgeoning place to be for members of the Mormon Church. However, the company failed to obtain water rights for Bishop Creek, and after drought, fire, and decimation from jackrabbits and Mormon crickets, Metropolis was reclaimed by the desert. Only foundations of the schoolhouse, hotel, and a few homes, as well as a still-in-use cemetery, are left to the elements.
Before you head out of town, stop at the Commercial Casino in downtown Elko, as its history is full of folklore dating back to 1869. "Handsome Harry" and his mistress, an infamous local prostitute, were shot to death by her husband in one of the second floor hotel rooms, and many have sighted Harry looking for his lost lover.
For more information, visit exploreelko.com.
Ely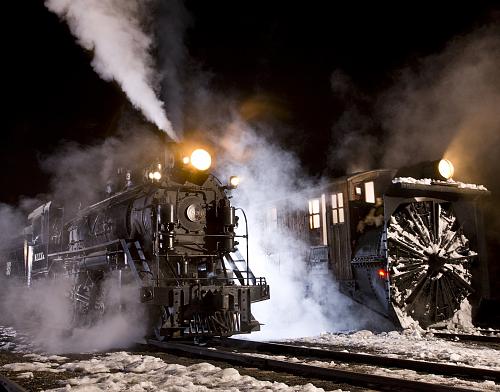 If you prefer your ghost sightings to be more friendly than fearful, consider taking a ride on the Haunted Ghost Train of Old Ely, about five hours from Reno.
Ely was founded in the 1870s as a trading post turned copper mining region, and every October, the Nevada Northern Railway takes costumed guests of all ages on a two-hour train ride that guarantees spooky sightings. Headless horsemen, hitchhiking ghosts, UFOs, and more appear alongside the tracks, and the demons and goblins possessing the train look an awful lot like the local citizens who annually go "missing" during this time of year. While the ghost train travels through the tunnels of the nearby Ruth Mine, the chill you feel in the air might be more than the weather.
For tickets and information, visit nnry.com.