Eat Like a Local – Food Trucks
Reno, at its core, is a wonderfully walkable city. Simply wander through downtown or Midtown and you'll no doubt see throngs of people out pounding the pavement, soaking in all the city has to offer. A perfect complement to all this walking is a veritable fleet of gourmet food trucks. Not only are there multiple food truck gatherings that pull in thousands of people, but you can often catch the trucks out in the wild as well. Get in the know about some of the best street food (and drink) the Biggest Little City has to offer.
Nom Eats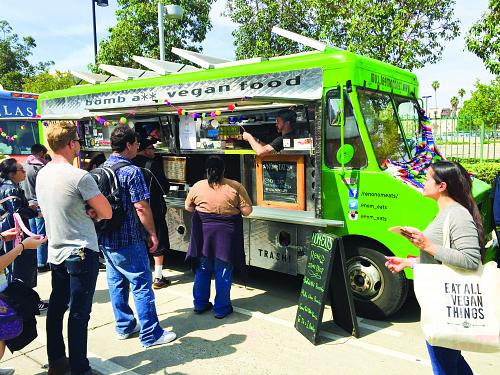 Reno-Tahoe is home to a wide range of restaurants, but it can still be tricky to find a good spot to eat if you're a vegetarian or vegan – and even more so when enjoying an outdoor event. Nom Eats, helmed by head chef Robyn Gurinskas and second-best burrito roller Carly Gurinskas, , is a beacon of light for veggie-heads who want to get all of the tastiness of street food with none of the guilt.
Focusing on monster-sized burritos, Nom Eats' menu has a wide variety of items that can satisfy any appetite. Vegan alternatives replace popular proteins, and often times the taste is indistinguishable from the real thing. One highlight is the Breakfast Burrito, featuring Soy-rizo – a spin on the classic Spanish pork sausage – and coconut (yes, coconut) bacon. For something a little more outside the box, there's the SoCo Burrito, which features Nom Eats' soy curl "chicken" coated in barbecue sauce and topped with macaroni and cheese and creamy coleslaw. The Sweet Tooth Sandwich, layering hazelnut spread and bananas inside French toast, is indulgent without being overly rich, making it a perfect dessert for any meal.
Being one of the more prolific mobile eateries in town, the vibrant, multi-colored truck is likely to be around wherever there's an event, bringing their unique brand of street eats and a lot of fun to the party. With high-quality ingredients and humongous portion sizes, Nom Eats will eliminate the hunger of anyone stepping up to order – meat eater and vegan alike.
Find where to score some Nom Eats on Twitter at @nom_eats, or see the full menu and calendar at renonomeats.com.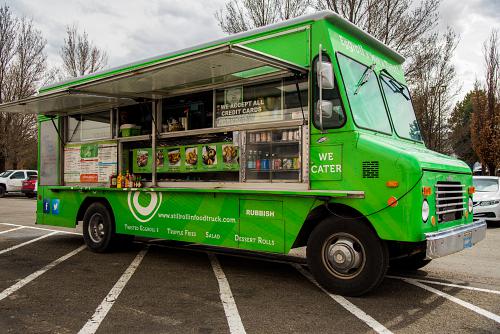 Still Rollin
Sometimes, the best ideas are the simplest ones. For chef/owner Regina Rozema, that idea was to take delicious combinations of ingredients, tuck them all in an egg roll wrapper, and fry them to a delicious golden brown. With that flash of brilliance, Still Rollin was born.
Combining the crunch of a deep-fried egg roll with robust fillings normally found in a sandwich, the eats coming out of this truck are super fulfilling without being too heavy, achieving a perfect, delicate balance. A popular option is The Full Monte Cristo roll, stuffed full of shaved ham, roasted turkey, and Swiss cheese, then dusted with powdered sugar and served with a side of homemade strawberry preserves. The savory and sweet notes combine harmoniously, and the added texture of the crispy shell makes it an experience like no other. For those wanting something lighter, a couple of non-fried options are made with rice paper and filled just as full with vegetables, proteins, and homemade sauces. All of the rolls come with your choice of side salad or truffle fries (and a fortune cookie for good luck), and it's difficult to leave without trying one of the decadent desserts.
It's not hard to spot Still Rollin's bright green truck wherever it's parked, and if the line to order is long, know that it's a testament to how good the food is. In fact, these "egg rolls with a twist" are so good that it's not uncommon for people to get their food and hop right back in line, eating while deciding what they want for round two.
Catch up with Still Rollin' on Twitter at @stillrollinfoodtruck, or see the full menu and calendar at stillrollinfoodtruck.com.
Starkey's Stoked Pizza and Epic Sushi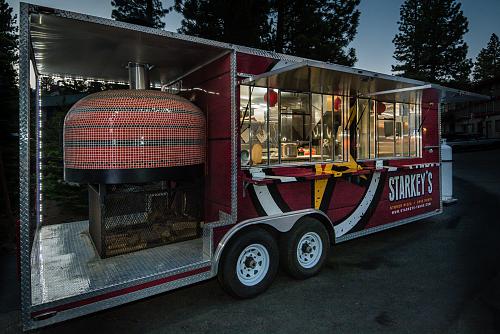 Wood-fired pizza and fresh-made sushi – these are not typically cuisines that come to mind when thinking of food trucks. Thanks to the creative mind of chef Dave Starkey, though, you can now get both in the same, on-the-go place. You won't be able to miss Starkey's Stoked Pizza and Epic Sushi, as it's one of the most memorable trucks in the area with a beautiful wood-burning stove on full display at the tail end of the vehicle.
Chef Starkey is no newcomer to the food scene, having worked in kitchens for the past 25 years and most recently as the lead sushi chef at Dragonfly Cuisine in downtown Truckee. The truck's menu keeps things simple with only three pizzas and four sushi rolls, but really focuses on making sure the flavors are perfect no matter what you choose. On the pizza side, the Great White is both unique and tasty, featuring olive oil, salami, onion, Serrano peppers and a drizzle of honey. If you prefer surf to turf, Starkey's Ahi Poke Roll is a stand-out with its fresh Ahi tuna, mango, red onion, cucumber, and avocado, topped with crispy wontons and wasabi cream. Their Crispy Crab and California Rolls are made with real crab, too.
Whether your mood calls for pizza or sushi (or both), Starkey's delivers with surprising speed and a high-end experience not often equated with outdoor dining. Just follow the smell of fresh-baked crust to their window, and get ready for some Instagram-worthy pies and rolls.
Get your pizza and sushi fix on Twitter at @StarkeysFood, or see the full menu and calendar at starkeys-tahoe.com.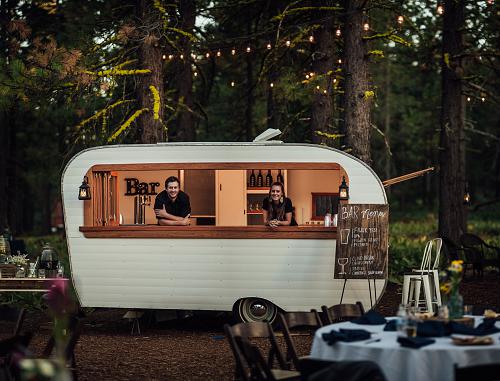 Petite Street
Cute, elegant, hip, and fun – all words that come to mind when seeing Petite Street Mobile Bistro roll into an event. This little white bar is always the life of the party wherever it's parked, and owners Angela Ceccarelli and Jeff Edwards are pros in making sure the cocktails they create are as cool as the customized trailer from which they are served.
Petite Street is a popular option for privately catered events, but it can also be found at food truck functions in both Reno and Tahoe. Step up to the gorgeous wood bar top and you'll discover signature cocktails crafted with seasonal ingredients, including options for vodka, whiskey, gin, rum, tequila, and wine drinkers. In addition to the killer mixology, Petite Street is on top of the food game as well, specializing in a sandwich with exquisitely-melted Raclette cheese and salty prosciutto on a crusty French baguette.
If there's a hopping party full of happy faces, it's very likely that Petite Street is somewhere nearby. The aesthetic of the quaint trailer coupled with delicious drinks and mouth-watering food makes it hard to pass up, and the top-tier service provided by Angela and Jeff make Petite Street the type of place that no one wants to leave.
Dance your way to a drink (and maybe a sandwich) on Twitter at @PetiteSt_Bistro, or get more info and see a calendar at petitestreetbistro.com.