Eat Like a Local: Doughnuts
The history of the donut is shrouded in mystery, but one thing is clear: We've loved eating these little fried rings of dough since they were invented sometime in the 1800s. Whether you spell it "donut" or "doughnut" or chase it with milk or coffee, the end result is always delicious. Regardless of where you go in Reno or Sparks, you're bound to be near an excellent shop featuring all your favorite donut variations in their glass cases. Find your way to some of the tastiest dough in town and check out Holey Schmidt Donuts, Rounds Bakery, and DoughBoys Donuts.

Holey Schmidt Donuts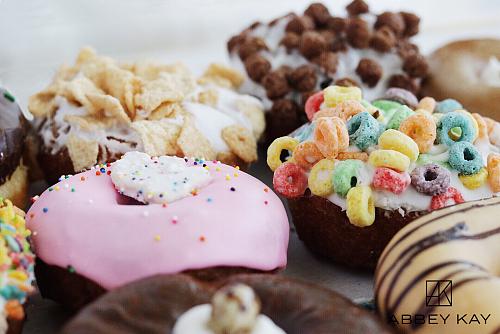 After visiting donut shops all over the country, Galen Schmidt had an idea – he wanted to bring a specialty donut shop to Reno. Galen and his wife, Cadi, brought this idea to fruition with the opening of Holey Schmidt Donuts in February 2018. Located in the dedicated restaurant space attached to The Discovery science museum on Center Street, it's a short trip from wherever you might be downtown.
Walking into the shop, it's hard to not be amazed at the sheer variety of donuts on display. The staples are there, of course – glazed donuts, donuts with fruit filling, and maple bars (some with bacon, if you're in a salty-sweet mood). In addition to the classics, a number of specialty donuts line the shelves. Frostings of every color and a rainbow of toppings adorn the various flavors of donuts, fritters, and twists. Breakfast cereals make for popular toppings, with Fruity Pebbles, Cinnamon Toast Crunch, and even Cookie Crisp (on top of a Cookie Monster-themed donut, no less) adding not only flavor, but also a crunchy texture to the sugary treats. Vegan choices are also available for anyone wanting a guilt-free way to indulge his or her sweet tooth. Depending on the day, you may also catch a random special like house-made Danishes or Harry Potter-inspired Butterbeer donuts.
Donuts aside, what's a good donut shop without coffee? Holey Schmidt features brew from local roasters Old World Coffee and can whip up custom coffee drinks like lattes and espressos. So whether it's being hungry after a day of exploring The Discovery or having a late-night craving for something sweet (they're open until 11 p.m.), Holey Schmidt has a donut for every possible situation, and then some.
Holey Schmidt Donuts is located at 490 Center Street in downtown Reno, and is open daily from 5 a.m. to 11 p.m.
Rounds Bakery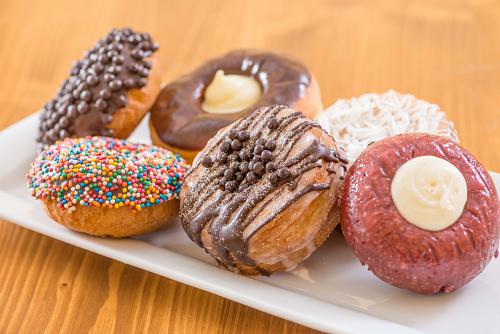 If Rounds Bakery sounds familiar to you, it might be because they were involved in a bit of a high-profile kerfuffle, resulting in co-owners Anton Novak and Sean Cary insisting to this day that the croissant-donut hybrid they've made for years is #NotACronut. That said, the non-cronut is only one of the many tempting items on Rounds' expansive menu. Being a full-service bakery and deli, the masterminds behind Rounds know to keep their donut game on point.
Not to say the croissant-donut doesn't deserve a little bit of the spotlight; Rounds was one of the first places to bring the culinary trend to the Biggest Little City. The bakers start with layered croissant dough, which is then cut into the standard donut shape, and fried to flaky perfection. Fresh out of the fryer, they're topped with any number of donut toppings from a simple glaze to more elaborate garnishes like frostings, sprinkles, or crunchy candies. The rest of Rounds' donut offerings are just as appetizing and delicious. As a matter of fact, many mornings see lines out the front door of the shop with folks hoping to get their hands on the bakery's handiwork. The bakery will also take custom orders, perfect for workplace meetings or large events that need a little extra touch of sweetness. Depending on time and availability, they'll even honor requests like custom letter donuts or off-menu items like beignets.
To accompany all the mouth-watering pastries, Rounds serves local java from Magpie Coffee Roasters and Kona Gold Coffee Company. For the rare person who isn't all about the donut life, Rounds also offers a full menu packed with sandwiches, salads, and many varieties of the popular savory cousin to the donut – the bagel. For the croissant-donuts, be sure to get there early, as they often sell out within the first hour of the day. Even if they're long gone, Rounds has plenty of other sweet and savory options well worth sticking around for.
Rounds Bakery is located at 294 East Moana Lane in Reno, and is open weekdays from 6:30 a.m. to 3 p.m., Saturdays from 7 a.m. to 2 p.m., and Sundays from 8 a.m. to 2 p.m.
DoughBoys Donuts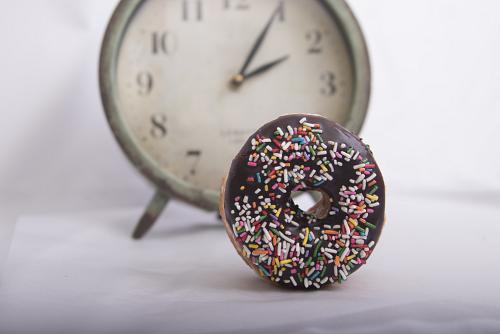 It's a story that sounds like something out of a movie or TV show. In 1980, Los Angeles police officer Bob Kenny founded a bakery in Hollywood called Donut Stop with his wife, Marge. Twenty-nine years later, Bob's son (and former Nevada Wolf Pack athlete) Jay Kenny continued the family donut tradition here in Reno with his own shop, DoughBoys Donuts. With a heavy focus on family and community, Jay and the crew have been cranking out fresh, fluffy donuts ever since.
The ties to the local university are obvious stepping into DoughBoys, as one of the highlighted donuts on the menu is the Wolf Pack Paw. A raised paw-shaped donut with blue-colored vanilla frosting, the Paw is a great snack for students and visitors alike. Another eye-catcher is the Big Boy. Measuring in at a whopping 8-inches round, this single massive delight (available with butterscotch, chocolate, or cherry icing) could easily feed a group of people or one very hungry donut lover. The behemoth can also be customized for events like birthday parties or graduations, making it a unique alternative to the standard cake. DoughBoys makes sure to keep all the old standbys in stock as well, for those who might just want a simple cake donut or a nice old-fashioned. Seasonal donuts are also on the menu; depending on the time of year, you may see heart- or shamrock-shaped donuts, among other festive forms.
Coffees, teas, and hot chocolates are available to wash down your donuts; in fact, DoughBoys offers a 96-ounce disposable coffee dispenser for large group functions. Other breakfast and lunch options fill out the menu nicely with an assortment of croissants, bagels, and sandwiches. Whether you want to show some school spirit with a dozen Wolf Pack Paws, or you're hungry enough to challenge yourself to a Big Boy, the friendly faces at DoughBoys will be happy to hook you up.
DoughBoys Donuts is located at 57 Damonte Ranch Parkway in Reno, and is open Sunday through Thursday from 5 a.m. to 9 p.m., and Friday through Saturday from 5 a.m. to 10 p.m. A second DoughBoys Donuts is located at 5115 Mae Anne Avenue, open the same hours as the Damonte Ranch store.