The Wise Guy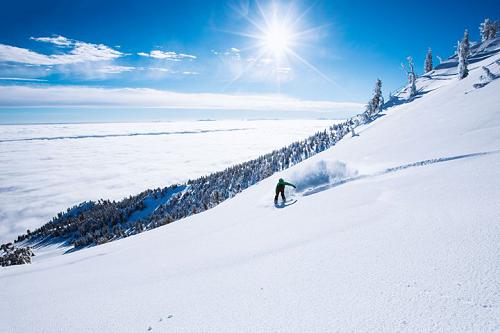 Native son, local legend, Olympic champion, husband, father. There is no doubt that David Wise knows three things: how to ski, where to go, and what to do with the family in Northern Nevada.
Wise's early memories are of him chasing his older sisters around the mountains at Sky Tavern in his hometown of Reno, Nevada. Since that initial introduction to the slopes of the Sierra Nevada, Wise has been a fixture of the ski scene, from local courses as an 11-year-old boy on the freestyle team to his first U.S. national title at 15, to the podium at the 2014 Sochi Olympic Games as the gold medalist in the inaugural men's ski halfpipe event.
Over the course of his skiing career and life, Wise's relationship with the sport has evolved. Having married his high school sweetheart, Alexandra, and with his daughter and son, Nayeli and Malachi, Wise says choosing a ski resort in the area is no longer solely dependent on the world-class quality of skiing. Still, his top picks Alpine Meadows, Squaw Valley, and Northstar all feature a healthy dose of adrenaline-pumping terrain and amazing runs.
"Now that I'm a parent, I have a new appreciation for the food, the accommodations, the bunny slopes, and especially the quality of the hot chocolate to bribe my little girl to take one more run." Of course, it doesn't take much of a bribe to keep the Wise family on the slopes. "My kids are both athletic and scrappy like me," says Wise, relishing the prospect of his kids trying out skiing, soccer, baseball, and football. "I am so excited to see what they pick out that are truly theirs!"
Still training year-round with a focus on the 2018 Olympics, Wise seeks to add to his impressive accolades that include gold from multiple Winter X Games and the FIS World Championships, as well as six U.S. national titles, and that historic Olympic gold medal. During the winter, months are spent skiing in intense shorter intervals that allow the body to recover, instead of spending all day on the slopes. Warmer months call for mountain biking on trails in Galena Forest, slacklining, and trail running. Regardless of the weather, Wise depends on a routine of trampoline work, visualization, and hitting the gym with his trainer, Max McManus.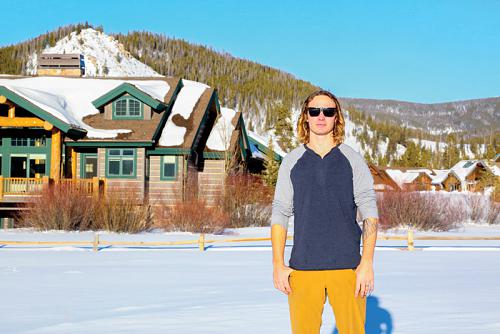 When not training or competing, his primary focus is on being the best husband and father he can be. "I realized [after his first major injury] that life was a lot bigger than a few runs through the halfpipe, no matter how big the competition. At the end of the day, my family just wanted me to be a good husband and father."
The young family of four, who all seem to share the same adventure-seeking gene, can often be found taking advantage of all Northern Nevada has to offer. The family loves snowshoeing the Sierra mountains at night under a full moon, skiing, and sledding. On less-intense days, the family loves spending time together just bowling or seeing a movie.
The Wise family's itinerary has enough adventures to keep anyone occupied through every season. From checking out Fly Geyser in the Black Rock Desert, which he calls his favorite hidden gem in the area, mountain biking in Galena Forest, hiking up Garson Road near Verdi, dirt biking on Peavine Canyon, early-morning boating on Pyramid Lake or Lake Tahoe, relaxing at Chimney Beach or Hidden Beach, fly fishing in the Truckee River, and conducting a food walk in downtown Reno by the river, Wise credits this year-round adventure lifestyle to Reno itself, saying, "I love that you have access to everything here. I've traveled all over the world and I still haven't found a place I would rather call home than Reno."
How would David Wise spend an ideal day in Reno-Tahoe?
"Reno is unique in that it has a mix of outdoor adventure and a hopping nightlife. I guess my ideal day in Reno for an outsider would be an epic powder day on the mountain (which we have a lot of thanks to the proximity of the Pacific Ocean), capped off with a tasty beverage of the visitor's choice, then (depending on how hard of a day you had on the mountain) a nice nap, then dinner. I recommend sushi when in Reno because most places are all-you-can-eat, and since they took their nap, they still have plenty of energy to experience the nightlife – maybe a show and a little blackjack or roulette, and then they head to the clubs and dance their heart out just to make sure they sleep well."