Bimini Bacon Recipe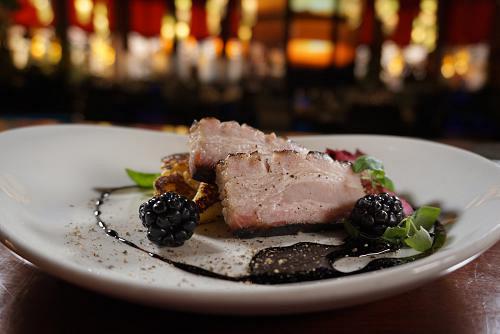 Our Pigs and Pours event is this weekend, April 9, and in honor of this inaugural foodie event, we wanted to share our most popular pork related recipe: Bimini Steakhouse BACON! Perfect for upcoming BBQ's, breakfast additions or those "just because" moments.
Bimini Bacon
RECIPE NAME: Bimini Bacon
YIELD: Half Gallon of Brine
INGREDIENTS:
1 Cup Brown Sugar
½ Cup Honey or maple syrup
1 ½ teaspoon Allspice
Ground Pinch of Nutmeg
Ground ½ Tablespoon Cinnamon
Ground ½ Tablespoon Onion Powder
½ Tablespoon Garlic Powder
½ Tablespoon Clove
Ground 1 Tablespoon Black Pepper, Coarse Ground
½ Cups Salt, Kosher
8 Cups Water
½ teaspoon Pink Salt/TCM
#1 1 Each Berkshire Pork Bellies ½ Each
"Smokinlicious" Hickory heartwood logs
METHOD:
1. Place all dry ingredients in a 1 gallon (or larger) noon-reactive pot. Add water, brown sugar and honey.
2. Bring to a boil. Add all dry spices and simmer for 5 minutes.
3. Remove from heat and transfer to a plastic storage vessel. Add remaining water to equal 2 gallons as either cold water or as ice (if brine is needed sooner).
4. Chill to below 40 in a proper cooling procedures.
5. Place pork bellies into brine and submerge for 48 hours under refrigeration.
6. Remove bellies from brine, rinse in cold water thoroughly.
7. Pat bellies dry with towel and place on drying racks placed on sheet pans.
8. Place bellies on sheet pan back into refrigeration to dry for a minimum of 24 hours.
9. Preheat wood fired smoker to 200 degrees.
10. Place bellies into smoker and smoke with "Smokinlicious" hickory logs until temperature reaches 180 degrees.
11. Remove bellies from smoker and cool in refrigerator.
12. Slice belly into desired thickness/size and pan fry until crisp.