5 Ways to Winter in Reno-Tahoe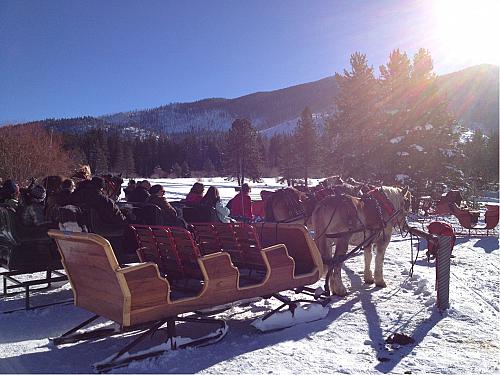 With more than 22,000 acres of snow-covered terrain in the Reno-Tahoe region, it's no wonder skiers and snowboarders alike hear our backyard powder calling their names every winter. If you prefer fun in the snow sans skis or boards, rest assured there are a variety of ways to explore and enjoy our winter wonderland.
Sledding & Tubing
Fun for kids and kids at heart, sledding and tubing are essential parts of celebrating winter. Nothing beats the rush of sliding down a slippery hill as you hold on and hope to avoid massive piles of snow. Grab a sled, an inner tube, or perhaps an extra slick trash can lid, and visit one of many options waiting for you.
If you are planning a trip to Reno-Tahoe's world-class ski resorts this winter, chances are you will encounter multiple sledding and tubing hills built into the park for all ages to enjoy. However, you don't have to be vacationing to hit the sled slopes with loved ones. Popular snow play areas, some of which have no parking or usage fees, include Tahoe Meadows (22222 Mount Rose Highway, Reno), Galena Creek Park (18250 Mount Rose Highway, Reno) and Tahoe Donner Snow Play Area (12790 Northwoods Blvd., Truckee). Additional recommendations are only a click away, as Yelp Reno and Google both come chock-full of local insider advice on the highest-rated hills for your slip-and-slide adventures.
Ice Skating
Lace up some skates and take to the ice this season, as the region is home to numerous indoor and outdoor ice skating rinks. At Tahoe, many of the ski resorts have ice skating rinks available to the public. This includes The Village at Northstar California Resort, Heavenly Village at Heavenly Mountain Resort, and Olympic Ice Pavilion at Squaw Valley. If you are looking for a stand-alone rink, try the South Lake Tahoe Ice Arena or Tahoe City Winter Sports Park. Both rinks offer skate rentals as part of the admission price.
Snowshoeing
If you are unfamiliar with snowshoeing, the winter hiking activity is not as unusual as it may sound. Snowshoes are simply pieces of footwear that allow for better weight distribution, making it easier to walk and hike in snowy terrain with less sinking into the elements. Many adventurers enjoy exploring the winter landscape up close and personal, while others prefer to work up a sweat in the chilly outdoors. No matter your preference, Tahoe Adventure Company has a snowshoeing tour perfect for you.
Those who are interested in dipping their snowshoed toe in the frozen waters may want to try a guided tour, which takes you into the surrounding wilderness of Lake Tahoe and offers both the beauty and tranquility of a snowy forest. For something a little different, Tahoe Adventure Company also offers guided sunset, full moon, and star snowshoe tours, providing hikers with gorgeous views and scenery rarely found elsewhere. Each tour ranges in distance from one to four miles and includes snowshoes and walking poles for trekkers, as well as hot drinks and trail snacks. Pack up your friends or family and discover a new way to hit the trails all winter long.
Snowmobile Rental
Those with a need for speed won't want to miss an opportunity to cruise the snow in their very own snowmobile. Make your way to the North Tahoe Regional Park, home to 124 acres of year-round recreation, and rent a snowmobile on-site, allowing you to drive in and hit the track with minimal effort. For little ones who want to get behind the wheel, visit the SnoVentures Activity Zone inside Squaw Valley Ski Resort. Children ages 6 to 12 can hop on a mini snowmobile and tackle the appropriately sized course, while other family members enjoy beverages and light food items inside the lodge's viewing area.
Dog Sledding and Sleigh Rides
Looking for a truly unique winter experience? Consider joining Sierra Adventures for a dog sledding excursion straight out of the movies. Packs of powerful pups will race you across a snow-covered landscape, following trails carved alongside soaring pine trees and sky-high mountains. An activity that is friendly for the whole family, participants will also have the chance to take photos with the dogs and sleds and pet the four-legged friends who traversed the paths with you.
For a mellower yet equally memorable experience, take part in Sierra Adventures' real-life sleigh rides. Horse-drawn sleds with seating for multiple guests are led through the wintry wonderland of the Sierra Nevada, providing riders with a one-of-a-kind story to tell for years to come. With the company offering complimentary shuttle service from any Reno hotel, all you will need is warm, waterproof clothing and a sense of adventure.
For more information on the companies and places mentioned in this article, visit:
Ski Lake Tahoe – skilaketahoe.com
Northstar California Resort – northstarcalifornia.com
Heavenly Mountain Resort – skiheavenly.com
Squaw Valley Ski Resort – squawalpine.com
South Lake Tahoe Ice Arena – tahoearena.com
Tahoe City Winter Sports Park – wintersportspark.com
Tahoe Adventure Company – tahoeadventurecompany.com
North Tahoe Recreation & Parks – northtahoeparks.com
Sierra Adventures – wildsierra.com