Summer Activities in North Lake Tahoe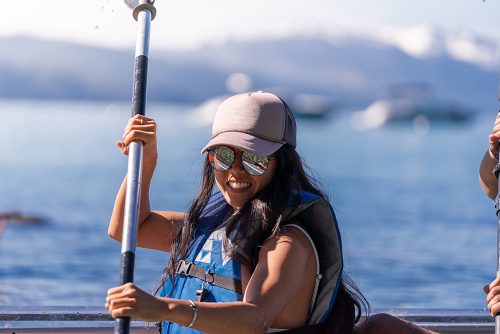 North Lake Tahoe is a four-season destination that spans two states, California and Nevada. There are 12 unique towns that make up North Lake Tahoe, with each town offering endless fun and outdoor activities for any type of adventure you're looking for. Whether it's experiencing the breathtaking panoramic views via a scenic hike, biking some of the best trails in the area, or spending a day on the water, North Lake Tahoe is the place to be this summer.
With Lake Tahoe at its center, it's no surprise that there is an abundance of water activities to keep you cool this summer. There is endless fun on the North Shore with kayaking, canoeing, and even parasailing. In Kings Beach, Tahoe Paddle & Oar is a full-service paddle sports shop with kayak and paddleboard rentals, along with guided tours to help you navigate around the lake. A popular paddle route is the Lake Tahoe Water Trail, which offers 72 miles of shoreline. It's an eco-friendly option for the eco-conscious traveler, as paddlers can use the Water Trail website (gotahoenorth.com) and Lake Tahoe Water Trail Map & Access Guide.
A unique way to connect with Lake Tahoe is through a glass bottom boat tour. In Kings Beach and Incline Village, you can experience the alpine blue waters with Wild Society. Wild Society is a clear kayak rental company that allows you to see Lake Tahoe like no other, and they will help you create one-of-a-kind memories surrounded by good friends and clear water. If you want to experience an even more breathtaking view, North Shore Parasail and Tahoe Aquatic Center in Kings Beach offers a parasailing adventure with a panoramic view of Lake Tahoe. In the summer, visitors can get aboard the Tahoe Gal, a Mississippi paddle wheeler docked in Tahoe City that cruises all the way to Emerald Bay.
North Lake Tahoe is not just water sports, it is also home to some of the best hiking trails in California that range from easy to difficult, with a trail for every skill level. Whether it's hiking through the forest around Tahoe City or exploring a trail with waterfalls, North Lake Tahoe allows for an unforgettable experience. Shirley Canyon Trail is a 5.8-mile out-and-back trail near Olympic Valley that lasts an average of three hours and 44 minutes to complete. The route takes hikers up into the mountains and along the route; a beautiful waterfall serves as a perfect photo stopping point.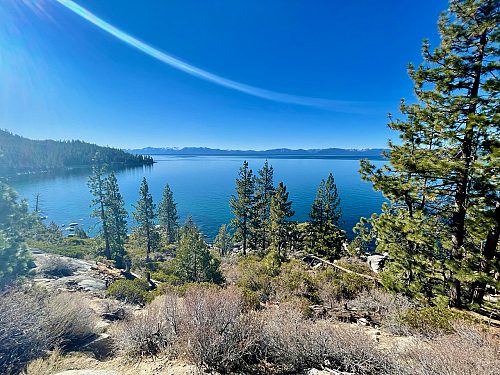 North Lake Tahoe is also home to one of the only via ferratas in North America - the Tahoe Via Ferrata. This activity invites visitors to ascend an 800-foot vertical cliff and combines hiking, climbing, and scrambling. The best part? No experience is required, making it accessible to those of all ages looking to partake in the fun. Be sure to also consider the Tahoe Treetop Adventure Park, which is a ropes and zipline course, with a variety of different courses for those of all fitness levels.
North Lake Tahoe offers a plethora of biking resources, bike shops, and bike tours. Whether you are looking to grab some gear for your first time riding up a mountain or looking for a guided tour, North Lake Tahoe is the place to be. Tahoe Adventure Company has high-quality biking trips and tours that follow the trails and waters of Lake Tahoe. On the west shore of Lake Tahoe at Homewood Mountain Resort's North Lodge, visitors can explore a paved bicycle path on an easy-to-pedal cruiser bike from a fleet of Marin bicycles. It's important to follow the safety tips of the region, which include following a bike path whenever available, knowing where the nearest repair shops are, always having a phone on hand, using proper hand signals, following road traffic rules, respecting the wildlife, and bringing extra tools in case of an emergency.
During the summer in North Lake Tahoe, visitors can hit the green on six championship golf courses and four executive courses in the North Lake Basin. If that isn't enough, another 14 are located an hour drive from the North Shore. The Tahoe City Golf Course, which was established in 1917 and designed by May "Queenie" Dunn Hupfel, is a favorite in the North Lake Tahoe Region. There are nine holes, par-33 and 2,700 yards of green to play on, along with options for breakfast and lunch.
The Incline Village Championship Golf Course offers two distinct golf courses: a par-72 Championship Course and a par-58 Mountain Course. Golfweek magazine rated the Championship Course a "Top 10 Best Golf Course You Can Play in Nevada." Also in Incline Village is the UC Davis Tahoe Environmental Research Center, the only science center in the Lake Tahoe area. After spending a day on the course, stop by and see the hands-on activities that help people learn about the lake's ecosystem, how it's changing, and what you can do to help protect it.
Overall, North Lake Tahoe is a destination with so much to do year-round. No matter when you visit or what activity you choose for your North Lake Tahoe experience, you're encouraged to take the Traveler Responsibility Pledge, which commits travelers to six travel pledges that amplify environmental stewardship efforts in the region. Together, we can enjoy the natural beauty of North Lake Tahoe year-round while working to preserve it for generations to come.
- by Taylor Eck