Eat Like a Local: Italian Restaurants
A heaping bowl of pasta and a nice glass of pinot are fit for any occasion. Whether it's a night out on the town with your besties or a romantic date night with your significant other, Italian cuisine can satisfy your deepest cravings. The Biggest Little City is home to many outstanding Italian spots, including Romanza, Johnny's Ristorante Italiano, La Famiglia, and Zozo's Ristorante. Each eatery creates its own unforgettable dining experience.
Romanza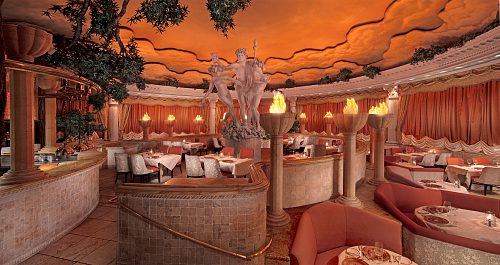 You don't have to travel far to indulge in tantalizing dishes and an unparalleled atmosphere. Romanza, located in the Peppermill Resort Spa Casino, exudes Roman opulence with its awe-inspiring sculptures and enchanted dome. The Veal Chop Parmigiana, crafted with tomato sauce, pappardelle, buffalo mozzarella, and Parmesan, is a guest favorite. Pair it with a delicious red from Romanza's extensive wine list and your taste buds will thank you. Another specialty is the Chianti-Braised Short Ribs, which are as tender as they are savory. This mouthwatering dish is slow cooked and served with a red wine sauce over mascarpone polenta. For a perfect finale, treat yourself to an Affogato, prepared tableside with steamy espresso, vanilla gelato, toasted hazelnuts, and shaved chocolate.
Romanza boasts many accolades, including the Wine Spectator Award of Excellence, Best Italian Food by Casino Player Magazine, and a recommendation by USA Today's 10Best in both fine dining and romantic dining.
Romanza is located inside Peppermill Resort at 2707 S. Virginia Street, and is open Wednesday through Sunday, 5:30 p.m. to 9:30 p.m., and is closed Monday and Tuesday.
Reno has changed quite a bit since the 1960s, but Johnny's exceptional pastas, sauces, and culinary creations have maintained their excellence throughout the decades.
Founders Johnny and Mary Cassinari began Johnny's in 1966 with a mission to serve the freshest, hand-selected ingredients to visitors and Reno locals. Ever since, taste seekers from near and far have enjoyed signature dishes like Filetto di Sogliole Petrale, a Parmesan-crusted petrale sole served with a lemon-cream sauce, angel-hair pasta, tomatoes, and basil; and the Pizza Piacenza with prosciutto, grilled asparagus, and white truffle oil. The flavors don't stop with the dishes. Johnny's impressive wine list includes selections from domestic and foreign vineyards, bound to complement your choice of cuisine. End the night on a sweet note with Johnny's famous Florentine Cup, a caramelized almond cup filled with vanilla ice cream, fresh strawberries, balsamic syrup, and zabaglione cream.
Johnny's is located at 4245 W. Fourth Street, and is open Tuesday through Sunday 5 p.m. to 9 p.m., and is closed Monday.
La Famiglia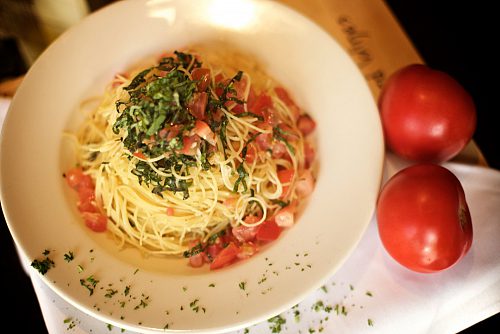 An intimate dining experience awaits at La Famiglia, located in Reno's Riverwalk District. This beloved eatery opened its doors in 2004 and boasts an "Old-World-inspired" menu using the freshest, made-from-scratch ingredients.
Visitors of La Famiglia can taste the authenticity with each bite of the handmade dishes. Some favorites include the decadent Truffle Mushroom Sacchetti and buttery Seared Citrus Scallops. If you're looking for a more traditional meal, the flavor profiles of the Spaghetti Con Le Polpette Di Carne (spaghetti and meatballs) or Lasagna will take you on a comforting journey. For dessert, you can't go wrong with a thick slice of cheesecake made fresh in-house. Enjoy a delicious aperitivo like Prosecco before your meal and a digestivo such as Limoncello after to embrace an Italian tradition that La Famiglia brings to Reno.
La Famiglia is located at 170 S. Virginia Street, and is open Monday through Saturday 5 p.m. to 9 p.m., and is closed Sunday.
Zozo's Ristorante Fine Italian/American Dining
Zozo's Ristorante is truly a family project. Owners Judy and Sid Ashton run the charming brick restaurant with their son, Chef Kevin. Judy Ashton explains that the family's passion for fine Italian food is both simple and relatable: "The whole family loves to eat."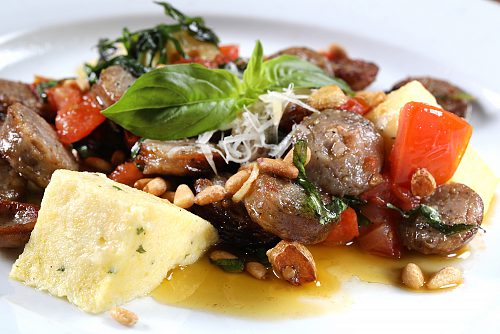 Zozo's is open for lunch and dinner and offers a wide variety of spectacular meals. Toss boring lunch plans into the trash and make your way to Zozo's for a hearty bowl of White Bean Minestrone or refreshing Caprese Salad. For a delightful dinner, savor every piece of the Zozo's Pomodoro Special—garlic, tomatoes, capers, green onion, basil, pine nuts, and blackened chicken all tossed with angel hair pasta. If you're too conflicted to decide on a dish, join in on A Taste of Zozo's, a wine tasting and food sampling event where expert chefs pair four wines with four dishes. The event is offered on a bi-weekly basis and reservations fill quickly, so be sure to check the new menu options and reserve your spot beforehand.
Zozo's is located at 3446 Lakeside Drive, and is open Monday through Thursday 11:30 a.m. to 2 p.m. and 4:30 p.m. to 8:30 p.m, Friday 11:30 a.m. to 2 p.m. and 4:30 p.m. to 9 p.m., Saturday 4:30 p.m. to 9 p.m., and Sunday 4:30 p.m. to 8:30 p.m.