Drink Like a Local: Winter
Throughout the Reno-Tahoe area, there are a variety of great watering holes, ranging from classic Americana lounges to modern speakeasies. In a town with something for every taste, a few new bars have proven capable of distinguishing themselves from the crowd. Located in the heart of the flourishing Midtown district, both Rum Sugar Lime and The Emerson haven't been open long, yet have garnered impressive local support. Black Rabbit Mead Company is another newcomer to the Reno bar scene, serving the world's oldest alcoholic beverage. Each of these locally owned companies offers distinctive libations that are sure to warm you from your head to your toes this winter.
Rum Sugar Lime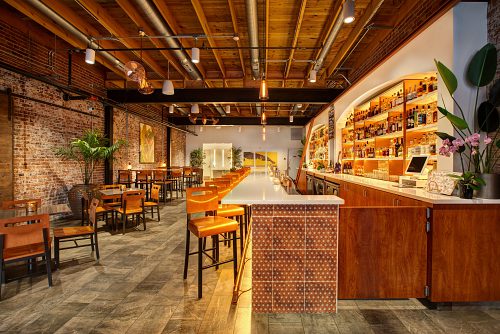 Named for the three essential ingredients in a perfect tropical drink, Rum Sugar Lime is a modern take on the classic tiki bar, guaranteed to rid you of the winter blues. You can't always head to Hawaii for a mai tai on the beach, but RSL's beautiful interior and delectable cocktails will have you stress-free in no time at all. Opened in 2018 by father-and-son duo Larry and Loren DeVincenzi, local Nevadans, RSL filled a space that seemed to be lacking in the Reno market.
For the DeVincenzi family, rum is a classic that can fit properly into any style of drink, without the necessity of overbearing sweetness. While you may be used to the idea of a daiquiri as a giant, frozen, fluorescent strawberry concoction, RSL begs to differ. The bartenders stick to the basics with their simple daiquiri: Flor de Caña 4 Year Extra Seco rum, Smith & Cross Jamaica rum, cane sugar, and lime juice.
Yes, you read that correctly. The only essential ingredients for a daiquiri are rum, sugar, and lime. If that delicious simplicity isn't enough to trick you into a tropical state of mind, the abundance of atmosphere will do the rest. The spacious, exposed brick venue truly brings the outside in. Warm copper-colored accents, a brightly lit bar wall, and a host of vibrant tropical plants give this clean, modern bar the allure of a Caribbean aire libre café.
Regularly offering live music, RSL is a great destination for your next night out. The staff is dedicated and their knowledge is unparalleled, supported by a delicious menu rounded out with non-rum drinks, just in case the spirit isn't your favorite. Next time you're in the mood for summer, head to RSL to enjoy a craft cocktail complete with creative, fresh ingredients.
Rum Sugar Lime is located at 1039 S. Virginia Street, and is open Tuesday through Thursday 4 p.m. to midnight, Friday 4 p.m. to 2 a.m., Saturday 2 p.m. to 2 a.m., Sunday 2 p.m. to midnight, and is closed Monday.
The Emerson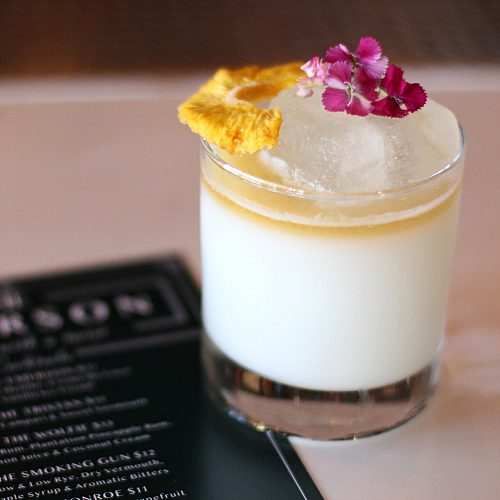 Opened in July 2019, The Emerson is one of Midtown's newest additions. This charming mid-century modern bar features delectable craft cocktails in an approachable yet stunning space. Once inside The Emerson, you'll feel right at home; inspired by late 1960s style, the bar has deep emerald green walls, plush pink barstools, and sleek gold and wood features. The combination feels both like modern luxury and classic elegance, and the menu is designed to match.
The Emerson's menu features traditional drinks with a twist, including La Dama, a take on the classic piña colada; made with tequila instead of rum, fresh juices, and coconut milk. Or try it with mezcal for a luscious, smoky flavor.
Adding to both its uniqueness and its allure, The Emerson is run by an all-female staff. With only female-made beers and wines on tap, this bar embodies thoughtfully and expertly crafted drinks with a feminine touch. Additionally, the drinks are named for famous women and loved ones of the staff, so be sure to order one (or two) during happy hour, weekdays 4-7 p.m.
If you aren't shy, The Emerson is also the perfect venue to host two incredibly popular drag events every month: Drag Brunch on select Sundays and $10 Drag Bingo on select Thursdays, benefitting local non-profits such as the Nevada Humane Society. These whimsical shows are the best way to enjoy a drink and a laugh. Be ready when they release a new date, as these shows sell out months in advance.
The Emerson is located at 955 S. Virginia Street, and is open Monday through Friday 4 p.m. to midnight, Saturday 2 p.m. to midnight, and is closed Sunday (except for private events).
Located just east of downtown in Reno's burgeoning Brewery District, Black Rabbit Mead Company opened in July 2019 as the first meadery in the state of Nevada. Black Rabbit has found a new spot in Reno's highly praised bar and brewery industry with its housemade cider-style mead. Mead is made from fermented honey and is the world's oldest alcohol, originally created before water was readily safe to drink.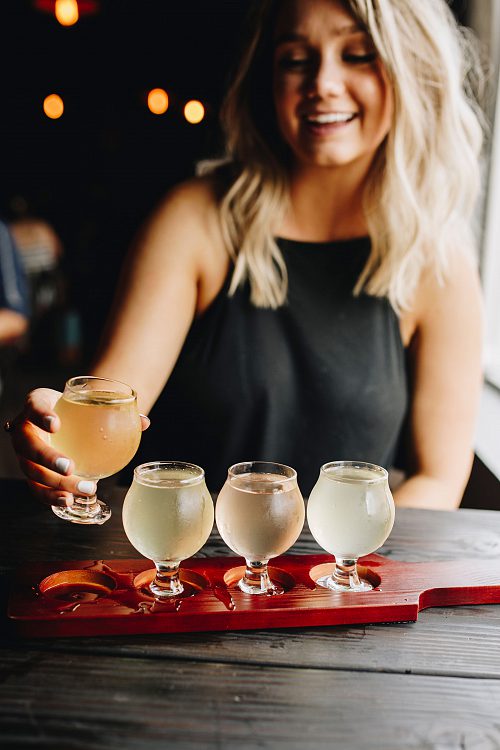 Owners Jake Conway and Will Truce met as high school teachers and soon discovered their shared passion for mead. After years of tinkering, the two decided to go professional and utilized friends and family to design and construct their impressive brewery, complete with large communal tables and innovative, natural accents.
Never tried mead before? Now is the perfect time. Black Rabbit doesn't offer just one style of mead, so we recommend a tasting flight to compare the range of flavors. You won't want to skip the jalapeño- and blackberry-infused varieties or the beer-style meads crafted in partnership with Lead Dog Brewery.
Made with locally sourced Sierra Nevada honey, Black Rabbit meads are carbonated, semi-dry, gluten-free, and are often described as tasting like a cross between a beer and cider, equally delightful and refreshing. One sip of an expertly handcrafted mead, and it's not hard to see why this lesser-known drink is quickly gaining a tasty reputation in the Biggest Little City.
Black Rabbit hosts a variety of events, including Big Mountain Movie Nights. Every Wednesday, you and your friends can head to the taproom to watch some of the crew's favorite mountain sports films. Grab a glass of mead and a seat, and enjoy this free event.
Black Rabbit Mead Company is located at 401 E. 4th Street, and is open Wednesday and Thursday 4 p.m. to 10 p.m., Friday 4 p.m. to 11 p.m., Saturday noon to 11 p.m., Sunday noon to 6 p.m., and is closed Monday and Tuesday.