August 2017's Top 15 Things to Do in Reno
This month has something for everyone to enjoy, whether you like to crush cans of beer, dress like a pirate in public, marvel at vintage modes of transportation, or relax with the smooth sounds of jazz. Keep reading to see what other fun August has in store for you.
Jazz and Beyond: Carson City Music Festival – Voted the best annual event by the Carson City Chamber of Commerce, Jazz and Beyond welcomes more than 100 musicians together for performances in a variety of intimate venues from August 4-20. In addition to jazz, genres include bluegrass, blues, Latin, and more, with many of the events being free or low cost to the community.
Hot August Nights – Hit the gas and race to Reno and Sparks for Hot August Nights, the largest classic car and nostalgia event in the country, this August 8-13. Thousands of automobile enthusiasts come to display their hot rods and muscle cars from the '50s, '60s, and early '70s, with even more attendees eager to see the vintage beauties in action. This year also boasts Joan Jett and the Blackhearts and Rick Springfield as part of the entertainment lineup.
Lake Tahoe Concours d'Elegance Wooden Boat Show – More than 60 antique and vintage wooden boats will compete on Lake Tahoe's west shore for top honors and bragging rights August 11-12. After you've marveled at the meticulously restored boats – some of which date back as far as 1915 – stick around for the wine village and awards ceremony barbeque.
Ta-Hoe Nalu Paddle Festival – Stand-up paddle athletes, hobbyists, and spectators won't want to miss the Ta-Hoe Nalu Paddle Festival, held at Kings Beach from August 12-13. Organizers are introducing new challenges for competitors and even more fun for attendees of all ages, including sand castle building contests, ukulele lessons, all-day demos and clinics, and a beer garden and luau.
The Mountaintop – A fictional depiction of the Reverend Martin Luther King Jr.'s last night on Earth, Good Luck Macbeth presents "The Mountaintop" August 18-September 16. Brought to Broadway in 2011, the play is set entirely in Room 306 of the Lorraine Motel on the eve of his assassination on April 4, 1968.
Reno Greek Festival – Be Greek for a weekend when St. Anthony's Greek Orthodox Church hosts the Reno Greek Festival August 18-20. Learn more about the culture through traditional dancing, music, dining, and imports, and try not to break too many plates in celebration.
Reno Art Fest on the River – If you love supporting the arts and having a great time, the Reno Art Fest on the River is where you'll want to be August 19-20. City Plaza will have original artwork for sale from more than 60 local and regional artists along with live music, food trucks, and a beer garden. Attendees can also vote for their favorite piece of art to be purchased by City of Reno for its Public Art Collection.
Northern Nevada International Dragon Boat Festival – Teams of 20 paddlers (plus a drummer and a steers person) will compete to cross the finish line fastest at the Northern Nevada International Dragon Boat Festival on August 19 at Sparks Marina. Watch races and enjoy a food truck bazaar, beer garden, and kids fun zone in between water events.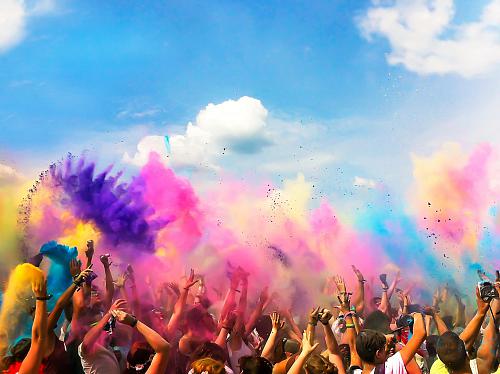 Holi Festival of Colors – Bask in a literal rainbow at the Holi Festival of Colors this August 19 at Rancho San Rafael Park. Packets of colored powder will be tossed in the air hourly so revelers can sing, dance, and throw their worries away (and take some amazing photos). There will also be live mantra bands and DJs, kirtan singers, and yoga classes. Make sure to bring your sunglasses and bandanas!
Reno Pirate Crawl – Arr, matey! Find your favorite eye patch and start training your parrot to sit on your shoulder now for the Reno Pirate Crawl on August 19. Thousands of buccaneers and wenches will set sail for downtown Reno that night to partake in drink specials, photo booths, costume contests, and more fun than you can shake a peg leg at.
Solar Eclipse Train Ride – On August 21, people across the nation will watch the sun disappear behind the moon, briefly turning daylight into twilight and causing rapid temperature drop. As unique as this experience will be, Nevada Northern Railway in Ely, Nevada wants to make it that much better. Register for the Solar Eclipse Train Ride to head north to Steptoe Valley by way of century-old steam engines and see the eclipse from a great vantage point.
Lucas Oil Off Road Racing – Billing itself as a full-contact MMA fight on wheels, the Lucas Oil Off Road Racing Series is a nationally televised off road racing sport where racers reach speeds of 90 MPH and jump more than 100 feet through the air. Sparks' Wild West Motorsports Park is said to be the most challenging track in the series, which drivers will face August 26-27. Buy tickets in advance online and save on admission.
Canfest – Giving canned beer the spotlight it deserves is Canfest, an annual event that brings more than 100 different brews from around the nation to the Biggest Little City. Plan to leave the keys at home the night of August 26 and enjoy buffet-style dining, a live band, and a silent disco at Grand Sierra Resort and Casino.
Reno Aloha Festival – The Reno Aloha Festival brings a taste of the islands to our local community August 26, all while offering free admission and a jam-packed event lineup that's family friendly. Spend the day at Wingfield Park listening to Hawaiian and Pacific Islander music, eating themed menu specials from vendors, and exploring the culture through Keiki Village's arts, crafts, and educational workshops.
Best in the West Nugget Rib Cook-Off – Held every year in downtown Sparks, the Best in the West Nugget Rib Cook-Off is the biggest barbecue festival in the U.S. Dozens of the world's best competitors serve up more than 240,000 pounds of ribs, each bringing their secret recipe with hopes of winning top honors. Enjoy vendors and entertainment while you're chowing down August 30 through September 4.