Pigs, Pours, and a Local Charity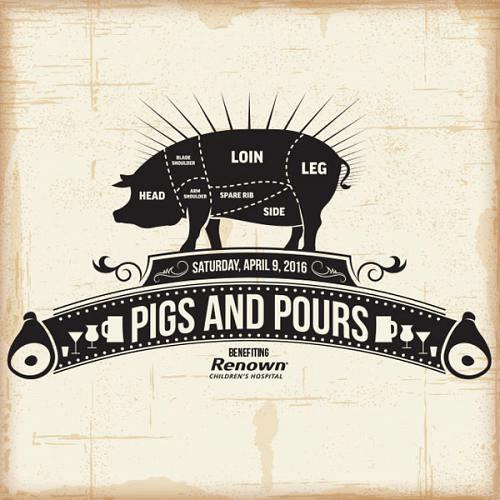 Personally, I'm a huge fan of bacon. Like HUGE. It just doesn't get any better than waking up to the sound of a sizzling, hot bacon scented kitchen. If you're like me though, unless you're the one waking up to cook said bacon… your kitchen is more than likely going to smell like the coffee you pre-prepared in the greatest invention ever created by man kind – the French Press. Don't get me wrong, coffee is a great thing to wake up to but in reality, it just doesn't compare.
Enter Pigs and Pours: where the bacon and pork bits are masterfully created and cooked FOR you this Saturday, April 9. Not at your house, or in the wee lights of the morning but this is way better my friends as this pork filled event comes with mixology made cocktails and benefits children in the Reno area through Renown Children's Hospital. It's basically a double whammy of all great things culminating in one great location: The Peppermill.
For all the quick and dirty details, make like your mouse and scroll on down.
Pigs and Pours menu:
1. American Station: Maple bourbon jagdwurst with bacon stout barley, Shrimp and bacon grits, Bacon and cheddar macaroni and cheese, carved to order Roasted pork steamships and , house cured and smoked cherry pork belly served with silver dollar rolls and onion bacon jam
2. Asian Station: Thai Pork Belly with spicy peanut bacon sauce, pork potstickers with spicy soy, BBQ pork buns
3. Mediterranean Station: Seared salmon with caramelized pancetta-fennel ragout with orange cous cous, herb grilled chicken with pork belly spinach-artichoke tapenade and ouzo orzo, Snout to Tail Pig Paella
4. Latin Station: Pork carnitas soft tacos with bacon guacamole, Mojo rubbed pork loin, roasted corn and black bean cumin rice
5. Chilled Selections: Chicken liver and bacon pate, whole grain bacon marble potato salad, salad bar with baby kale, iceberg, spinach, bacon bits, cucumber, grape tomatoes, diced red onion, Honey mustard bacon vinaigrette, hot bacon dressing
6. Desserts: Peanut Butter Bacon & Jelly Brownies; Peanut Butter Chile Bacon Truffles; Butter Pecan Pancetta Cupcakes; Peanut Butter, Bacon, and Banana Mousse Verrines; Dulce Cheesecake Bites with Candied Bacon Crumble; Bacon Gelato Mini Cones; Chocolate Dipped Candied Bacon Strips; Other assorted sweet treats
Registration for Pigs and Pours will start at 2pm with the event itself starting at 6pm and running until 9pm in the Tuscany Welcome Center. Tickets are $50 per person.