June 2018's Top 15 Things to Do in Reno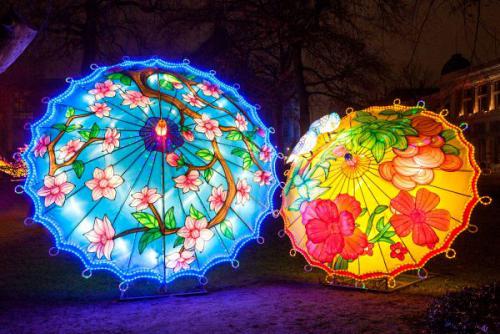 Whether you want to beat the heat or have some fun in the sun, June is jam-packed with things to do. Find out when and where you can have dance party in the park, shop local honey and lavender, eat like it's 1874, and more this month.
Feed the Camel – Starting June 6, you can spend every hump day this summer at Feed The Came. It's a weekly evening of food trucks and local beer at the McKinley Arts and Culture Center, set across from the flowing waters of the Truckee River. There's no chiller way to enjoy some good eats and beat the heat.
Nevada State Fair – Carson City hosts four days of carnival fun and entertainment during the Nevada State Fair. From June 7-10, guests of all ages can enjoy rides and games, western-themed gunfights, Civil War re-enactments, horseback cavalry shows, and exhibits from every county in Nevada. Admission to the Nevada State Fair is free, with unlimited ride wristbands starting at $20 when purchased in advance.
The Biggest Little Invitational Craft Beer Festival – Sip the best of the best at the inaugural Biggest Little Invitational, a festival dedicated to the top craft beers around, on June 9 at Bartley Ranch Regional Park. General admission and VIP attendees will also enjoy live entertainment, old-fashioned lawn games, and lots of local food vendors, while designated drivers get unlimited drinks from a non-alcoholic cocktail menu.
Taste of the Comstock – History has never tasted so good. Experience the heyday of historic mining town Virginia City on June 9 and sample food and drink from more than 20 stops highlighting Comstock flavor. Reserve your spot now in the Whiskey Tent for a VIP sampling of American-born whiskies accompanied by a cigar, or sign up for the single-jack drilling competition for your chance to take home a cash prize.
Reno Rodeo – Known as the "Wildest, Richest Rodeo in the West," the Reno Rodeo is 10 days of action-packed fun June 14-23. Events include steer wrestling, barrel racing, and bull riding, with junior roping and mutton-busting activities available for the youngest rodeo fans. There will also be a carnival, theme nights, and a cattle drive parade.
The Great Eldorado BBQ, Brews & Blues Festival – Combining a barbecue block party with microbrews and music, the Great Eldorado BBQ, Brews and Blues Festival returns for its 23rd year June 15-16. Two stages will feature nonstop rock and blues – including Vanilla Ice and Spin Doctors – while attendees sample beers from 50 breweries and devour ribs, wings, and more.
Stewart Father's Day Powwow – Celebrate American Indian heritage and culture at the Stewart Father's Day Powwow, taking place at and benefitting Carson City's historic Stewart Indian School. From June 15-17, the school will come alive with more than 200 dancers, 30 arts and crafts vendors, local cuisine, and a 5K Color Fun Run. Admission is free for the whole family. Visit stewartindianschool.com for more information.
Adventure Sports Week Tahoe – If you love trail running, mountain biking, stand-up paddleboarding, and more human-powered sports, get ready to challenge yourself during Adventure Sports Week Tahoe. From June 15-24, North Lake Tahoe will host eight competitive events during the day and even more entertainment at night. There will be clinics and demos hosted by world-class athletes and experts, too.
Sierra Nevada Honey & Lavender Festival – Options for local honey and lavender abound at the Sierra Nevada Lavender & Honey Festival, taking place June 24 at Sparks' Victorian Square. Shop these products alongside artisan craft and food vendors, or enjoy free music, yoga sessions, guest speakers, and demonstrations.
Last Friday at Victorian Square – All summer long, the City of Sparks and the Sparks Heritage Museum are teaming up to bring you Last Friday at Victorian Square. Admission to the museum, train display, and Glendale Schoolhouse will be free June 29, and docents will be available for tours. The block party will also have art booths, live music performances, and a free movie.
Tipsyland Bar Crawl – You'll feel like you're in the happiest place on Earth at the Tipsyland Bar Crawl on June 30. Wearing your finest princess dress or largest pair of mouse ears, you'll fit right in with the hundreds of costumed revelers partying in 15 bars throughout downtown Reno.
Bass Camp in the Park – The Dancetronauts Bass Station is rolling into Wingfield Park on June 30 for an all-ages electronic music party. Thomas Jack, Hotel Garuda, Ranger Bass, and Kryoman (with robot production) will spin under the stars, coupled with art installations, food trucks, vendors, and more.
24-Hour Mural Marathon – Seven muralists will bring brand-new masterpieces to life when the 24-Hour Mural Marathon returns to Circus Circus Reno on June 30. Art enthusiasts of all ages are invited to watch the pieces – measuring 20 feet by 14 feet – go up overnight, and the top three vote-getters will win cash prizes.
U.S. Open of Watercross – Self-described as "motocross on the water," the Pro Watercross Tour features professional and amateur athletes racing personal watercraft for the prestigious title of U.S. Open of Watercross Champion. From June 30-July 1, spectators can watch participants reach speeds of up to 90mph at the Sparks Marina, as well as stand-up paddleboard sprints and hydroflight competitions.
Dragon Lights – Chinese artists will light up the Reno skyline with 39 larger-than-life illuminated lanterns and displays June 30-August 5 at the Wilbur D. May Arboretum and Botanical Garden. Free nightly guided tours are included with admission, and the festival will also feature Chinese stage culture performances, demonstrations, and food and beverage.