June 2017's Top 15 Things to Do in Reno
June is jam-packed with all sorts of great events, and this list is only the beginning of ways to have fun in the sun or beat the summer heat. Save this schedule if you're interested in craft beer, buckin' broncos, or lavender and honey!
Reno Aces – Root, root, root for the Reno Aces during games at Greater Nevada Field all summer long. Watch the Triple-A affiliate of the Arizona Diamondbacks take on the Las Vegas 51s – the team's in-state rival – in a four-game home stand beginning June 1. On June 23, stick around after the game against the Tacoma Rainiers, when kids age 12 and younger can run the bases for free.
Reno Craft Beer Week – Raise a pint at the 3rd Annual Reno Craft Beer Week, which celebrates the Biggest Little City's growing craft beer scene June 2-10. Beer lovers will rejoice as the dozens of breweries in town come together for beer dinners, food pairings, beer walks, and craft beer cocktail tasting. At Peppermill Reno, pick up our RCBW punch card from various bars inside the resort and have a beer on us. After your first four purchases of local craft beer offerings from our restaurants, bars, and lounges, your fifth one will be on the house.
Sands Eurofest 2017 – Enjoy a taste of Europe at Eurofest 2017, taking place June 2-4 at the Sands Regency Casino Hotel. Grilled bratwurst, chorizo sandwiches, Swedish meatballs, and so much more await at this annual event, as do a large selection of beers, live music, and craft fair booths.
Street Vibrations Spring Rally – Get the Street Vibrations party started early at the Spring Rally, June 2-4. Thousands of motorcycle riders and enthusiasts will take over downtown Reno for slow bike races, ride-in shows, poker runs, live entertainment, and more.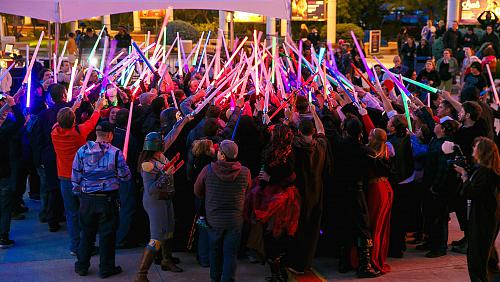 2017 Reno Epic Crawl & Lightsaber Battle – Every fandom is welcome (and encouraged) at the Epic Crawl on June 3. Thousands of costumed partygoers will represent their favorite sci-fi, fantasy, movie, gaming, and TV characters at more than a dozen bars, all of which feature drink specials. Oh, and there will be a live lightsaber battle, too.
Slide the City – Don't miss your chance to ride a 1,000-foot water slide. On June 3, Slide the City returns to Ralston Street for a water-soaked block party with live music, food trucks, and the biggest slip-and-slide you've ever seen. Make sure to pack extra sunscreen and your inflatable tube!
Jet Jam Racing – World champion water ski riders compete for titles and glory at Jet Jam Racing, held June 3-4 at Sparks Marina. The pros will showcase amazing speed and technical skills while amateur riders test their abilities and learn from the best. Free to attend, this event will also feature family-friendly beach and water activities.
Nevada State Fair – Carson City hosts four days of carnival fun and entertainment during the Nevada State Fair. From June 8-11, guests of all ages can enjoy rides and games, western-themed gunfights, Civil War re-enactments, horseback cavalry shows, and exhibits from every county in Nevada. Admission to the Nevada State Fair is free, with unlimited ride wristbands starting at $30 when purchased in advance.
Taste of the Comstock – History has never tasted so good. Experience the heyday of historic mining town Virginia City on June 10 and sample food and drink from more than 20 stops highlighting Comstock flavor. Reserve your spot now in the Whiskey Tent for a VIP sampling of American-born whiskies accompanied by a cigar, or sign up for the single-jack drilling competition for your chance to take home a cash prize.
The Mighty Tour de Nez – Now in its 24th year, this block party turned bike race sees professional and amateur cyclers come together for a day of serious, whimsical, awe-inspiring competition on June 10. Races – including clunker and kids' rides – are free to watch, and there will be outdoor bands, food trucks, and signature mint juleps to keep you entertained between rides.
Thunderbird Paddling Festival – Immerse yourself in the world of stand up paddleboarding at the Thunderbird Paddling Festival, set for June 10 at Lake Tahoe's Sand Harbor State Park. Athletes and hobbyists can compete in races, test and shop new gear, or learn from the best how to get on the board and start paddling for fun.
Reno Rodeo – Known as the "Wildest, Richest Rodeo in the West," the Reno Rodeo is 10 days of action-packed fun, June 15-24. Events include steer wrestling, barrel racing, and bull riding, with junior roping and mutton-busting activities available for the youngest rodeo fans. There will also be a carnival, theme nights, and the crowning of Miss Reno Rodeo 2017.
The Great Eldorado BBQ, Brews and Blues Festival – Combining a barbecue block party with microbrews and music, the Great Eldorado BBQ, Brews and Blues Festival returns for its 22nd year June 16-17. Two stages will feature nonstop rock and blues while attendees sample beers from 60 breweries and devour ribs, wings, and more.
Stewart Father's Day Powwow – Celebrate American Indian heritage and culture at the Stewart Father's Day Powwow, taking place at and benefitting Carson City's historic Stewart Indian School. From June 16-18, the school will come alive with more than 100 dancers, 30 native artisan and craftspeople, and lots of local cuisine. Admission is free for the whole family, too!
Sierra Nevada Lavender & Honey Festival – Options for local honey and lavender abound at the inaugural Sierra Nevada Lavender & Honey Festival, taking place June 25. Shop these products alongside artisan craft and food vendors, or enjoy free music and entertainment at Sparks' Victorian Square.