December 2017's Top 15 Things to Do in Reno
No amount of frightful weather could stop us from enjoying all the holiday fun in the Biggest Little City. Read this list and check it twice so you don't miss out on carols, coffee, Santa crawling, and more.
City of Sparks Hometowne Christmas Celebration – Start the holiday fun at the City of Sparks Hometowne Christmas Celebration. The evening of December 1, a traditional tree lighting ceremony takes place in the heart of Victorian Square, complete with live music sing-alongs and hot chocolate. On December 2, a Christmas parade with hundreds of floats, marching bands, animal groups, and Santa fills the afternoon with fun. Bring a camera, as Santa can't wait to take a selfie with you.
The Eight: Reindeer Monologues – Santa's eight reindeer are ready to dish on all the North Pole gossip and they're not holding back. Put one of Good Luck Macbeth Theatre Company's ten "The Eight: Reindeer Monologues" shows on your list this December 1-23 and check twice to make sure you get tickets while they last.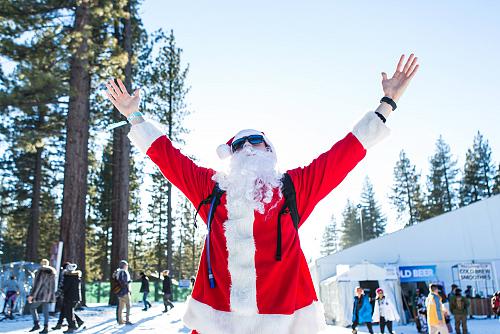 Spirit of the Season – Guaranteed to warm the heart of any Grinch, the Reno Philharmonic brings holiday favorites to life December 2-3. The variety-style show at the Pioneer Center for the Performing Arts features singers, dancers, performers, students, Santa tappers, and more putting on orchestral arrangements, jazzy numbers, traditional tunes, and joyful carols.
Reno Ice Rink – 'Tis the season to slip on a pair of ice skates at Greater Nevada Field. The Reno Ice Rink returns now through February 11, and is expected to be open every day in December barring inclement weather. There's also two Character Days this month, giving you the chance to take laps with Darth Vader and his Stormtrooper on December 3 or reenact "Frozen" scenes with Olaf, Elsa, and Anna on December 10.
Pie Class – Going to school never tasted so sweet. On December 6, Mix Bakeshop will teach attendees how to make a lattice-topped nine-inch pie from scratch. You'll learn how to prep pie dough and sauté apples, too, and take home your picture-perfect dessert in a reusable glass pie dish.
39 North Pole Village – Walk, shop, and celebrate in a winter wonderland this December 7-9 when 39 North Pole Village returns to Victorian Square. Attendees can find holiday gifts in the heated vendor village tent, vote for their favorite light displays, and take free train rides on Engine 39. Plus, there's a live nativity scene, music and dance performances, and ugly sweater making, too!
The Nutcracker – Presented by the A.V.A Ballet Theatre and the Reno Philharmonic, "The Nutcracker" will fill the Pioneer Center for the Performing Arts with seasonal cheer December 8-10. A special sugar plum party will be held after the two matinee performances so children can meet a number of characters.
CoffeeChamps Reno – Prepare to be caffeinated. CoffeeChamps Reno is one of U.S. Coffee Championships' two qualifying competitions, and from December 9-10, baristas, brewers, roasters, and tasters will best each other to represent the United States at the World Championships. Local pros from Coffeebar and Old World Coffee are up for the challenge, so cheer them on while sampling and shopping the finest javas for yourself.
The Nightmare Before Christmas – Piper's Opera House, a historic performing arts venue in Virginia City, brings the iconic film to the stage December 9-17. Before the matinee show on December 10, the cast and crew will serve a Christmas brunch catered by The Roasting House as well.
Reno Santa Crawl – It's the most wonderful time of the year when more than 15,000 Santas (and similarly dressed revelers) turn downtown Reno into the largest Santa bar crawl in the country. This December 9, dress in your finest reindeer antlers or elf shoes to partake in the fun. If the drink specials don't make you feel merry, knowing that all the proceeds from the Reno Santa Crawl go to charity will.
Dining in the Dark – Serving as a fundraiser for the Nevada Youth Empowerment Project, Chef Ben Deinken will prepare a six-course dinner with wine pairings at Arlington Towers on December 14. There's just one catch – you'll be completely blindfolded while you eat, forcing you to use your other senses.
Ugly Sweater Wine Walk – Don your best (or worst) holiday sweater and traverse the Riverwalk District during the Reno Wine Walk on December 16. More than 25 businesses will be pouring wine samples and the best ugly sweater selfie on Instagram will win two tickets to the next Wine Walk of their choice. Plus, a portion of the event proceeds will be donated to a local non-profit organization.
Jacob Marley's Christmas Carol – If you think you know "A Christmas Carol," think again. When Reno Little Theater presents "Jacob Marley's Christmas Carol," you'll find out what really happened on that magical Christmas Eve as Marley works to redeem Scrooge's soul. Shows run now through December 17 and include matinee, pay-what-you-can, and Thirsty Thursday (complimentary drink included with ticket) dates.
Nevada Chamber Music Festival – Showcasing world-class musicians and the best in classical music, this annual festival features 11 unique concerts with leading players from the Los Angeles Philharmonic, Cleveland Orchestra, and the Berlin Philharmonic. Presented by the Reno Chamber Orchestra, shows begin at various venues December 27 and culminate with a New Year's Day performance on January 1.
SnowGlobe Music Festival – Celebrate the end of 2017 with Khalid, Zedd, Travis Scott, E-40, and more at the SnowGlobe Music Festival, held December 29-31 in South Lake Tahoe. If the multiple music stages and culinary specialties aren't enough, there's also world-class skiing and snowboarding at your fingertips.